The amended constitution gives the president the right to appoint cabinet ministers, regional governors, and some other regional officials, and strengthens presidential control over law enforcement bodies.
The amendments reverse changes that had limited the president's authority.
The opposition For Reforms alliance and some human rights groups have strongly opposed the latest changes.
Asiya Sasykbaeva, a member of the For Reforms opposition movement, told RFE/RL's Kyrgyz Service today that she opposes these latest changes.
"Instead of raising [public] confidence, authorities are doing the contrary," Sasykbaeva said. "I no longer trust them, be it the parliamentarians, or the president."
Opponents have accused Bakiev of breaking the deal he endorsed with thousands of opposition backers protesting in the streets -- repeatedly demanding that Bakiev implement long-promised reforms or step down.
When lawmakers approved these newest changes on December 30, parliamentary speaker Marat Sultanov described it as a compromise version of the constitution to promote stability.
Caretaker Prime Minister Feliks Kulov and his government announced their resignations in December, suggesting the move would accelerate the holding of new parliamentary elections, since there is no clear ruling party.
Bakiev today pledged to nominate a replacement to Kulov "within days."
He also endorsed amendments to the country's Law on Government that confirm the new presidential powers.
(with additional AP reporting)
Understanding Kyrgyzstan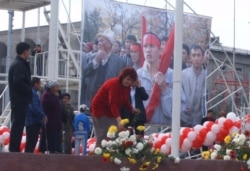 Workers preparing for celebrations of the constitutional compromise in Bishkek on November 9 (RFE/RL)


A STABLE FOUNDATION? On November 9, RFE/RL's Washington office hosted a briefing featuring RFE/RL Kyrgyz Service Director Tyntchtykbek Tchoroev and RFE/RL analyst Daniel Kimmage.
LISTEN
Listen to the complete discussion (about 80 minutes):

Real Audio
Windows Media
RELATED ARTICLES
Parliament Adopts Constitution Curtailing Presidential Powers
Crisis Deepens After President Proposes Constitutional Changes
Bishkek Prepares For Large Opposition Rally