During a visit to Kabul by U.S. Defense Secretary Robert Gates, Eikenberry warned that militants are using Pakistan's territory to base their operations in Afghanistan. He noted that the number of militant incursions from Pakistan last month was double the number a year ago.
The incursions have grown in spite of a Pakistani government agreement in September to hand some security responsibilities to local tribesmen in the North Waziristan border area. The move was intended to reduce militant activity.
Eikenberry said he expects more violence in Afghanistan in the coming months, including possible terror attacks in Kandahar and other urban centers.
During Gates' visit to Kabul, he is scheduled to meet with Afghan President Hamid Karzai, as well as with U.S. and NATO commanders.
(AFP, Reuters)
The Afghan Insurgency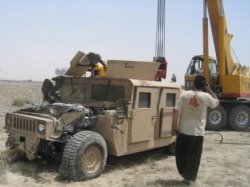 A U.S. military vehicle damaged by insurgents near Kandahar (epa)
HOMEGROWN OR IMPORTED? As attacks against Afghan and international forces continue relentlessly, RFE/RL hosted a briefing to discuss the nature of the Afghan insurgency. The discussion featured Marvin Weinbaum, professor emeritus of political science at the University of Illinois at Urbana-Champaign, and RFE/RL Afghanistan analyst Amin Tarzi.
LISTEN
Listen to the entire briefing (about 83 minutes):
Real Audio
Windows Media
ARCHIVE
RFE/RL's
coverage of Afghanistan
.
SUBSCRIBE
For weekly news and analysis on Afghanistan by e-mail,
subscribe to "RFE/RL Afghanistan Report."