Presidential spokesman Nurlan Shakiev told RFE/RL that Bakiev today submitted Kulov's nomination to parliament for approval.
"We can say that the constitution, signed on the 15th of January, has come into force starting today," presidential spokesman Nurlan Shakiev told RFE/RL. "According to this, President Kurmanbek Bakiev offered to parliament the candidacy of acting Prime Minister Feliks Kulov."
Kulov and his cabinet resigned on December 19, triggering a political crisis that resulted in the adoption of a revamped constitution that gave the president enhanced powers.
Lawmakers are not expected to reach a decision on Bakiev's choice today.
Parliamentarian Kamchybek Tashiev told Kyrgyzstan's AKIpress news agency he believed Kulov's chances of becoming prime minister again were "50-50."
(with material from AKIpress, Kabar)
Understanding Kyrgyzstan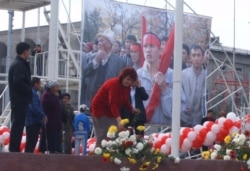 Workers preparing for celebrations of the constitutional compromise in Bishkek on November 9 (RFE/RL)


A STABLE FOUNDATION? On November 9, RFE/RL's Washington office hosted a briefing featuring RFE/RL Kyrgyz Service Director Tyntchtykbek Tchoroev and RFE/RL analyst Daniel Kimmage.
LISTEN
Listen to the complete discussion (about 80 minutes):

Real Audio
Windows Media
RELATED ARTICLES
Parliament Adopts Constitution Curtailing Presidential Powers
Crisis Deepens After President Proposes Constitutional Changes
Bishkek Prepares For Large Opposition Rally