Vandals Damage Solzhenitsyn's Mother's Grave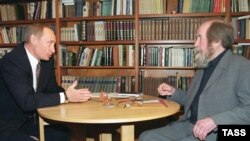 Solzhenitsyn (right) meeting with Russian President Putin in September 2000 (ITAR-TASS) January 18, 2007 -- Russian police says vandals have damaged the grave of the mother of Nobel Prize winning writer Alexander Solzhenitsyn.
The vandals removed a marble cross from Taisiya Solzhenitsyna's grave earlier this week in the town of Georgiyevsk, in Stavropol Krai.
Solzhenitsyn's mother died in January 1944. Solzhenitsyn, who won the Nobel Prize in literature in 1970, returned to Russia in 1994 after two decades in exile.
(Interfax, AP)