The letter comes amid growing criticism of Ahmadinejad's economic and international policies, including an indirect rebuke from Iranian Supreme Leader Ayatollah Ali Khamenei.
Ahmadinejad is likely to get a frosty reception when he goes before the parliament on January 21 to present his proposed budget.
Issa Saharkhiz, a prominent pro-reform journalist in Tehran, told Radio Farda recently that Ahmadinejad is coming under increasing fire from lawmakers.
"Other members of parliament have individually criticized the government and Ahmadinejad himself," Saharkhiz said. "If you look at the work of the parliament in the past two weeks, you can see a sort of opposition and confrontation with the government on different issues."
Conservative Critics
More than half of the members of the conservative-dominated parliament have criticized government spending and a perceived over-reliance on oil revenues. Critics have cautioned that reserves from oil earnings are in poor shape and that the falling price of oil is worrying.
Legislators have also argued that the government must reexamine its economic policies and management -- which many blame for a surge in inflation and a failure to reduce unemployment.
Public Sentiment
Ahmadinejad, who has been in office since mid-2005, has in the past defended his economic polices and blamed previous governments for such problems.
Reformist and conservative legislators have begun collecting signatures to demand that Ahmadinejad appear before the parliament to answer questions regarding his nuclear policy and other issues. They have reportedly collected at least 50 of the 75 legislative signatures required to summon the president.
Observers say the parliament's recent moves indicate a growing dissatisfaction with Ahmadinejad's performance -- and an attempt by some conservative legislators to distance themselves from his actions.
Ahmadinejad and his allies were dealt a heavy blow in recent local elections when voters rejected many of his favored candidates. The adoption in December of UN Security Council sanctions to pressure Iran over its nuclear work followed. Critics accuse Ahmadinejad of undermining Iranian interests through his harsh rhetoric and actions like Tehran's hosting of a recent Holocaust-deniers' conference.
Supreme Challenge
The conservative daily "Jomhuri Eslami" advised President Ahmadinejad in an early January editorial that he should remain silent on the nuclear topic and instead leave the talking to those who are in charge. The daily is said to reflect the views of Supreme Leader Ayatollah Khamenei, who has the final word in official Iranian affairs.
The conservative daily "Jomhuri Eslami" advised President Ahmadinejad in an early January editorial that he should remain silent on the nuclear topic and instead leave the talking to those who are in charge.
For Saharkhiz, the spate of criticism targeting Iran's president suggests that Ahmadinejad's best days are behind him. He suspects that Ahmadinejad is losing the trust of Iran's leader.
"Mr. Ahmadinejad cannot as easily as before meet with Mr. Khamenei, and the criticism...among clerics shows that the golden era of Mr. Ahmadinejad has ended and that he is moving very rapidly toward a fall," Saharkhiz said.
Ahmadinejad's confrontational international style and hostility toward the West are also increasingly criticized.
Many have criticized Ahmadinejad's recent tour to Latin America -- where he met with Venezuelan President Hugo Chavez, Nicaraguan President Daniel Ortega, and other U.S. irritants -- as well as its timing.
Mohammad Ali Abtahi, a former vice president, described it as "the most expensive and most useless" of foreign endeavors by the government. The moderate "Ettemade Melli" daily asked whether Chavez and Ortega can possibly be "Iran's strategic allies."
Inflation Woes
Rising prices are another reason for growing discontent with the government. A former Tehran mayor, Ahmadinejad rose to national prominence in 2005 with a pledge to bring Iran's oil revenues to households. But in recent months, food prices have climbed as the cost of housing has done the same.
A deputy speaker of the parliament, Mohammad Reza Bahonar, said on January 7 that the government had promised low-interest loans for housing -- a move that increases demand in the sector and with a knock-on effect on rents and purchase prices.
Sadegh Zibakalam, a political analyst in Tehran, speculates that some of Ahmadinejad's supporters are also losing patience with the president.
"Those who voted for Ahmadinejad 18 months ago might feel that things have not really changed," Zibakalam said. "Of course, nobody expects social justice to be applied and all economic problems solved in Iran in 18 months -- but even the lowest expectation was that Ahmadinejad's government would have some concrete and reasonable programs to deal with it."
Zibakalm said it is still unclear what actions Ahmadinejad might take in the face of the growing criticism.
"Until today, he hasn't shown a serious reaction to the problems," Zibakalm said. "Whenever he has a speech, instead of talking about the main problems, he says, for example, that on the international scene all the Muslims are with us. [His stances] have nothing to do with the problems that people are feeling and dealing with in their daily lives."
(Radio Farda correspondent Behruz Karuni contributed to this report)
Women In Iran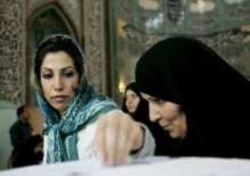 Women in Tehran (epa file photo)

CALLING FOR MORE RIGHTS: Although women played key roles in Iran's 1979 Islamic Revolution, the place of women in post-revolutionary society has been a vexing question. Iranian women have struggled to bring attention to their calls for greater rights in their country's rigid theocratic system, calls that have often clashed with the values proclaimed by conservatives in society. (more)
RELATED ARTICLES
Tehran Police Renew Campaign To Combat 'Un-Islamic' Dress
Iranian Peace Prize Laureate Shirin Ebadi On Women's Rights
Activists Concerned About Self-Immolation Of Iranian-Kurdish Women
The Younger Generation's 'Tehran Blues'
ARCHIVE
RFE/RL's coverage of Iran. RFE/RL's coverage of issues concerning women throughout our broadcast area.

SUBSCRIBE
For a regular review of civil-society developments throughout RFE/RL's broadcast region, subscribe to "RFE/RL (Un)Civil Societies."