A documentary broadcast on the BBC on January 22 said the attempt to poison Litvinenko may have been made on October 16 when Litvinenko met two Russian contacts at the same London sushi bar where he fell sick two weeks later.
Litvinenko, a Kremlin critic, died on November 23. On his deathbed, he blamed Russian President Vladimir Putin of ordering his killing. The Kremlin denies any involvement.
The sushi bar was one of several London occasions where police found traces of polonium-210.
Meanwhile, the British "Times" newspaper reported last week that British police had a photo taken by a security camera of the man suspected of being Litvinenko's killer.
Scotland Yard refuses to discuss its ongoing investigation into Litvinenko's death.
The Russian Prosecutor-General's Office today denied reports it has suspended its investigation against exiled businessman Boris Berezovsky.
A lawyer for Berezovsky on January 22 said the investigation had been suspended due to difficulties in investigating a refugee. Russian prosecutors have charged Berezovsky, who lives in London, with seeking to forcefully grab power.
They are also seeking to question Berezovsky as part of their own investigation into the Litvinenko poisoning
(BBC, Reuters, Interfax, Ekho Moskvy)
Aleksandr Litvinenko: A Timeline
Aleksandr Litvinenko: A Timeline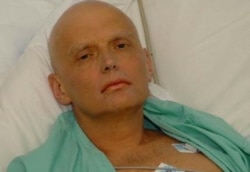 CLOAK AND DAGGER: A timeline of a murder case that unraveled after Andrei Litvinenko, a former Russian security officer and vocal Kremlin critic, dies on November 23, 2006, of poisoning by radioactive isotope polonium-210.
In a deathbed letter, Litvinenko blames Russian President Vladimir Putin for his death -- a claim Putin condemns.
Investigators center on two meetings in London that Litvinenko had described -- one in which he met with two Russians for tea in London, and another in which he met with a third Russian at a sushi bar.
Six months later, British prosecutors announce they have enough evidence to charge a Russian citizen -- one of the men who had met with Litvinenko for tea -- with the murder ...more...
MORE: Coverage in Russian from RFE/RL's Russian Service.
ARCHIVE
RFE/RL's English-language coverage of
Russia
.
SUBSCRIBE
For news and analysis on Russia by e-mail,
subscribe to "RFE/RL Russia Report."