But a senior health official's recent warning of the potentially exponential spread of HIV and AIDS through sex suggests that an official reluctance to discuss extramarital intimacy and other forbidden topics might be giving way to a more realistic view of AIDS.
The head of the Iranian Health Ministry's disease-management center (Markaz-i modiriat-i bimariha), Mohammad Mehdi Guya, warned that the threat of "a third wave of AIDS...through sexual relations is slowly showing itself," Fars News Agency reported, according to "Kargozaran" on January 11. He cautioned that a failure to "intervene in time" could allow "a sudden increase in the disease."
Guya said the first wave of infections came in the 1980s, with the import and use of infected blood for transfusion. The second wave erupted in the late 1990s and was blamed on needle sharing by drug addicts.
Sexual Transmission
He said the past two years have brought "early signs" of an incipient third wave of HIV infections through sexual relations. He warned that unless young people and spouses of infected people are educated and informed, infections could increase rapidly in the next two years, "Kargozaran" reported.
Guya insisted that the Iranian state has not been idle. He said the government began planning its response to a "third wave" a year ago, and has been drafting a "second strategy" in its AIDS-control program. He said that this strategy will be implemented next year if the relevant budget funds are approved.
Guya said that "government centers and many nongovernmental organizations" are working on AIDS prevention. He described "an attempt to teach people to...control relations outside the family circle" and, if that fails, to prevent AIDS "by using condoms in sexual relations, or using disposable needles and syringes."
Condoms are already a part of state and religious authorities' plans, under family-planning and population-control policies that have been in place for several years.
Dicey Figures
Guya contended that the government has responded seriously to the second wave of drug -related HIV infections.
Iranian officials are uncertain how many Iranians are HIV-positive.
A little over 13,000 Iranians are officially known to be, according to Health Minister Kamran Baqeri-Lankarani on October 15, although he and other officials estimate that as many as 70,000 Iranians are actually infected.
Guya noted that 14,090 HIV cases are women, "Kargozaran" reported on January 11, although it was unclear if he was quoted properly -- or was giving the current number of all known HIV-positive Iranians.
But "Kargozaran" quoted parliamentary Health Committee member Masud Amini as cautioning that official figures given for HIV infections "cannot be real...due to moral considerations and religious restrictions in the country." He was careful to avoid accusing the ministry of intentionally blurring the figures, but Amini noted people's reluctance to reveal their HIV status, to avoid social discrimination or disgrace. Amini also argued that AIDS-education budgets are not "enough," saying that public education must spread to the media if prevention is the goal.
Amini downplayed statistics and claimed that the first real step lies in changing the perspective on AIDS as a threat. He asked whether officials' goal in presenting figures is "to say that we are a very good or a very bad country," on the one hand, or "prevent the disease," on the other?
Out Of Sight
Amini credited the former government -- of President Mohammad Khatami -- with at least discussing frankly the spread and prevention of AIDS in its waning days. He said that while that approach "faded" with the inauguration of Mahmud Ahmadinejad in 2005, "recently...the ministry has become active" again.
And he noted that the "first step in preventing AIDS is not denying that infections...occur."
Another member of parliament's Health Committee, Hussein Ali Shahriari, also warned on January 12, according to ISNA, that HIV infections are on the increase -- and more than ever from sexual relations. He blamed the trend on poverty that prevents young people from marrying -- leading to an increase in extramarital sex. Shahriari argued for greater efforts at prevention by noting the "costs for society" of HIV infections, saying public education should begin in secondary schools.
In an admonition that officials seem more likely than ever before to heed, Shahriari said Iran has "problems in terms of education and cultural formation, because [the country has] not set out the issues as they are."
RFE/RL Reports On AIDS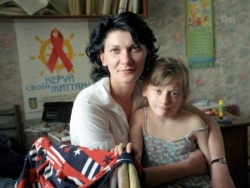 An HIV-positive Ukrainian woman and her daughter (epa)

FACES OF THE EPIDEMIC: HIV-infection rates continue to soar in many parts of RFE/RL's broadcast region, from Ukraine and Russia to Central Asia. RFE/RL frequently reports on the problems associated with the pandemic and efforts to combat them.
RELATED ARTICLES
China Steps Up Fight Against Spreading Epidemic
Iranian Brothers Change The Face Of HIV, Drug-Addiction Treatment
Drug-Treatment Effort Targets HIV/AIDS In Afghanistan
Tatarstan Clinic Is Bold Exception In Russia's HIV Battle
Fourteen Kazakh Children Infected With HIV In Hospitals
UNAIDS Head On Epidemic In CIS
Russia's 'Miss Positive' Puts Public Face On Battle With HIV/AIDS