She attended school, enjoyed her holidays, and, like many other 11-year-olds, kept a diary.
When war suddenly entered her life, her diary was transformed into the testament of a child exposed to the possibility of violent death.
Iraqi diarist Hoda Thamir Jehad said she put words to paper in the hope "that it would help me breathe."
"Zlata's Diary" was published in 1993 and became an international best-seller. It has been translated into 36 languages.
Filipovic, who is now 26, graduated from Oxford in 2001 and today lives in Dublin.
Life During Wartime
Most recently, she has teamed up with award-winning British writer Melanie Challenger to compile another book, titled "Stolen Voices." The volume excerpts from young people's wartime diaries, from World War I to Iraq.
Filipovic, who has been called "the Anne Frank of Sarajevo," says "Zlata's Diary" is about getting on with one's life in the face of adversity.
"It ranges from anything such as details of life, of how you survive, of how you improvise life, of how you get water, and how you deal with a lack of electricity or with this immense sense of insecurity and death all around you," she told RFE/RL in Washington.
Filipovic said her diary helped to keep her sane, that it provided relief by letting her distance herself from a horrific situation. She said she felt the need to tell her story -- even if just to herself.
Not Alone
Writing also kept her occupied and gave her a sense of intimacy. It made her feel that someone was listening and understood her plight.
"I had this need to sit down and to sort of curl up or to go to a colder room that we weren't heating because there was no electricity and sit down at my desk and write things," Filipovic said.
Filipovic says she hopes her new book will make people realize that anyone can get caught up in a war -- "people with hopes, desires, and problems, wherever and whenever they live."
Hoda Thamir Jehad of Iraq was 18 at the time of the U.S.-led invasion of her country in March 2003. She began keeping a diary shortly after the fighting began. She said she put words to paper in the hope "that it would help me breathe."
In one of her poems, she wrote:
Inaudible whispers...
Failed government...
And a worse life,
And the hours pass by,
And an agonizing hunger,
Children suffering...
But there is a voice in the distance
That starts to spread.
It is the voice of Truth,
Though not of fulfillment.
One reviewer said "Stolen Voices" creates a "gripping historical narrative whereby war stories are told not through facts and dates but through the honest impressions of youth."
Srebrenica Remembered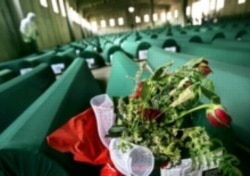 Coffins of Srebrenica victims being prepared for burial in October (AFP)

THE WORST ATROCITY IN EUROPE SINCE WORLD WAR II: The July 1995 massacre of some 7,000 Muslim men and boys by Bosnian Serb fighters near the UN-designated safe haven of Srebrenica is the worst atrocity of its kind in Europe since the end of World War II. Since the incident, the name Srebrenica has become practically synonomous with ethnic cleansing....(more)
See also:
Coming To Grips With The UN's Failure At Srebrenica
Child Of Srebrenica Returns Home For Anniversary Of Massacre