In the bloodiest incident, a suicide bomber killed at least 23 worshippers when he blew himself up at a Shi'ite mosque in the town of Balad Ruz, northeast of Baghdad.
In northern Baghdad, at least 17 people were killed by mortar rounds, while in the south of the capital, at least four Shi'ite pilgrims were killed when gunmen opened fire on two minibuses.
At least 13 people died when a roadside bomb exploded by a procession of Shi'a in the town of Khanaqin, northeast of Baghdad.
In other violence, police said a car bomb targeted a police patrol in the northern city of Mosul, killing two police officers.
The attacks came as some 2 million Shi'ite pilgrims descended on Karbala to take part in the religious ceremony of Ashura.
The 10-day mourning rite honors the slaying in 680 of Imam Hussein, grandson of the Prophet Muhammad.
(compiled from agency reports)
On The Verge Of Civil War
On The Verge Of Civil War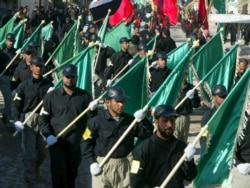 The Imam Al-Mahdi Army on parade (epa)
HAS THE CONFLICT IN IRAQ BECOME A CIVIL WAR? Many observers have concluded that the tit-for-tat sectarian violence that emerged after the February 2006 bombing of a mosque in Samarra has become a full-blown civil war.... (more)


RELATED ARTICLES
U.S. Media Starts Using 'Civil War' Label
Iraqi Prime Minister Under Fire From All Sides
U.S. Expert Discusses Prospects For Stabilization
President Says Iraq Needs Iran's Help
Saudi Arabia To Seal Off Border With Security Fence

THE COMPLETE PICTURE:
Click on the image to view RFE/RL's complete coverage of events in Iraq and that country's ongoing transition.