Russian Officials Refuse To Meet International Lawyers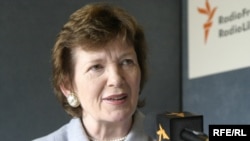 The lawyers included former Irish President Mary Robinson (file photo) (RFE/RL) February 1, 2007 -- A delegation of international lawyers say they have had to cut short a trip to investigate antiterrorism measures and human rights in Russia, after the authorities refused to meet them.
The International Commission of Jurists said in a January 31 statement that the Interior Ministry, the Prosecutor's Office, the Federal Security Service, and the Foreign Ministry refused to let their representatives meet the delegation.
The lawyers, including former Irish President and former UN High Commissioner for Human Rights Mary Robinson, then decided to leave Russia one day earlier than planned.
Earlier this week, lawyers and human rights defenders said Russia was violating human rights by including military operations in Chechnya in an international fight against terrorism.
(AFP)