Chinese, Russian Scientists Search For Rare Leopard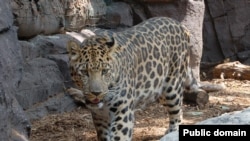 Only 30 Amur leopards are thought to be left in the wild (file photo) (Public domain) February 1, 2007 -- Conservationists have begun searching for the last remaining Amur leopards in Russia's Far East and China's border regions.
Logging, poaching, and human development have decimated the population, and just 30 of the big cats are thought to remain.
The scientists will search 5,000 square kilometers of snowy forest during the two-week census, which is organized by the World Wildlife Fund and the U.S.-based Wildlife Conservation Society.
(AP, AFP)