Human Rights Watch said today that the victims submitted their appeal to the Higher Regional Court in Stuttgart last week.

A dedicated webpage of RFE/RL's coverage of the events in Andijon in May 2005 and their continuing repercussions.
The federal prosecutor had rejected their December 2005 complaint that called for Almetov to be investigated for crimes against humanity.
Holly Cartner, the Europe and Central Asia director at Human Rights Watch, said by rejecting the original case file by the victims, "Germany's federal prosecutor has exacerbated the environment of impunity that exists for foreign officials accused of crimes against humanity."
The original complaint was filed in Germany as Almatov had been receiving medical treatment there.
The Uzbek government says 189 people were killed when escaped prisoners mixed with peaceful protesters in Andijon and troops were sent in to restore order. Witnesses claim the figure was much higher.
The event sent hundreds fleeing into neighboring Kyrgyzstan, many of whom were relocated by the UN to other countries, including Germany.
Andijon Refugees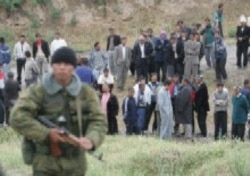 Uzbek refugees in Kyrgyzstan on May 19, 2005 (epa)


NO PLACE TO GO: More than 400 Uzbeks who fled in panic in the hours and days after troops opened fire on demonstrators in Andijon one year ago have been granted political asylum outside Central Asia. In limbo for weeks in Kyrgyzstan as they and the world tried to come to grips with the bloody events of May 12 and 13, they feared for their lives and the lives of family members as the official crackdown continued.... (more)
RELATED ARTICLES
Andijon Refugees In Romania Have Escaped Violence, But Not Heartache
Refugees In Romania Await Decision On Destination
Refugees Want To Return Only If Regime Changes


THE COMPLETE STORY: A dedicated webpage bringing together all of RFE/RL's coverage of the events in Andijon, Uzbekistan, in May 2005 and their continuing repercussions.
CHRONOLOGY
For an annotated timeline of the Andijon events and their repercussions, click here.