Yushchenko Says Too Early For Gas Venture With Russia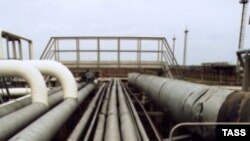 Gasometer in Ukraine (file photo) (ITAR-TASS) February 2, 2007 -- Ukrainian President Viktor Yushchenko says it is premature to talk about creating a joint venture with Russia to manage gas pipelines transiting through Ukraine:
"The existing gas transport artery is a strategic Ukrainian asset," Yushchenko said today. "By law, the state has a monopoly over it and manages it, and everything related to modifying this model requires a very thorough and cautious approach."
His comments contrasted with remarks by Russian President Vladimir Putin on February 1 that Kyiv had offered to revive talks on the venture.
Russia's gas monopoly, Gazprom, has long sought to gain control over Ukraine's pipeline system.
About 80 percent of Russian gas destined for Europe is pumped through Ukraine.
(Reuters, Interfax)
RFE/RL Belarus, Ukraine, And Moldova Report

SUBSCRIBE For weekly news and analysis on Belarus, Ukraine, and Moldova by e-mail,
subscribe to "RFE/RL Belarus, Ukraine, And Moldova Report."