Ronald Deibert, director of the University of Toronto's Citizen Lab, calls it a "censorship circumvention" program.
Named Psiphon, it is downloaded by people in a country with uncensored Internet access such as the United States, Canada, or Germany.
They then give a URL or Internet address to a few trusted friends, family members, or colleagues who live in a country where there is Internet censorship.
Armed with this address -- which looks like a series of numbers rather than a traditional address such as www.rferl.org -- a person in China or Iran only needs to find a computer with Internet access.
"They could connect to it from any Internet-capable computer," Deibert explains. "There's nothing for them to download on their end. And that was a deliberate choice on our part to minimize as much as possible the security risks for people who are using [Psiphon] from censored locations."
Deibert says the person in the censored country faces very little risk of getting caught.
That's because the connection between Psiphon users and servers is encrypted, using the same methods used for financial transactions on the Internet. Therefore, government censors cannot determine the content of the information being exchanged. It is indistinguishable from other Internet traffic, according to Deibert.
Unexpected Popularity
Psiphon has proved more popular than its launchers had ever imagined. According to Deibert, the program has been downloaded from his organization's website (http://psiphon.civisec.org/faq1.html) close to 80,000 times since it was first released on December 1, 2006. And, it's continuing to be downloaded at a rate of 500 a day.
Deibert has no way of tracking who is downloading the program, but his organization has received enthusiastic feedback from ethnic communities and diaspora groups from China, Vietnam, and Iran, among other places.
Psiphon is also being used by a broader array of groups and individuals than Deibert's organization originally envisioned. "I think that the user base is a lot broader than we first anticipated, because we naturally work a lot with human rights organizations and dissidents," he says.
"We assumed that that would be the primary user base," he adds. "But we found that Psiphon has been deployed by networks of NGOs that span censored and uncensored locations. Journalists are major users of Psiphon."
International businesses that have branches in countries that are censored and uncensored are also using Psiphon to ensure that all of their employees have the same level of Internet access.
Technological Battle Continues
Deibert is anticipating further growth because Internet censorship shows no sign of abating. In fact, Deibert fears that the Chinese have exported their techniques to Uzbekistan.
"Uzbekistan is interesting because it's one case where we've felt that we can see a mirroring of Chinese filtering practices in that country in terms of the way the Internet has been set up and perhaps even some of the technology," he says. "It's a practice that's spreading."
Meanwhile, technology marches on. While the computer programmers at the University of Toronto were finding a way around Internet filtering, programmers employed by commercial firms that manufacture filtering software have been refining their products.
According to Deibert, one commercial filtering product currently on the market has a feature called "advocacy." This option blocks access to websites of organizations that promote opposition to the government -- that is, any government that purchases the filtering product.
Internet In The Former Soviet Union
Internet In The Former Soviet Union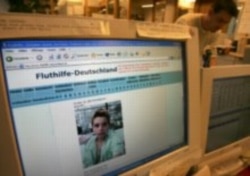 (AFP)
BREAKING THE NEWS: In 2000, Internews and the Center for Democracy and Technology established the Global Internet Policy Initiative (GIPI) to promote an open, democratic, and user-controlled Internet in developing countries. Throughout the former Soviet Union and Central and Eastern Europe, GIPI has worked to bring together local stakeholders and advocate policy reforms that will support development of the Internet as a tool of democratization, economic growth, and human development.
On May 3, RFE/RL's Washington office hosted a roundtable discussion of these issues. Participants included PARVINA IBODOVA, chairman of the Civil Internet Policy Initiative and GIPI Coordinator; BOGDAN MANOLEA, Executive Director of the Romanian Association for Technology and Internet (APTI), an independent NGO that works to promote human rights in the digital environment and support digital civil rights in Romanian society; and experts working in the Internet policy development area from Belarus and Uzbekistan. Internet-policy advocates from Azerbaijan, Kazakhstan, Kyrgyzstan, Macedonia, Russia, and Ukraine also took part in the discussion.
LISTEN
Listen to the entire 90-minute briefing (the first two minutes are low volume):
Real Audio
Windows Media
RELATED ARTICLES
Russia: Authorities Warn Of Cybercrime Epidemic
Belarusian Opposition Embraces Internet
Internet Battle Averted As UN Technology Summit Starts
Rights Group Lists 'Enemies Of Internet' At UN Summit
ARCHIVE
To view an archive of RFE/RL's stories about the Internet, click here.