The legislation was backed by 430 deputies in the 450-seat chamber. There were no votes against.
About 80 percent of Russian gas destined for Europe is sent via Ukraine and Russia's state-controlled Gazprom gas monopoly has long wanted to acquire control over the Ukrainian transit gas-pipeline system.
The legislation was initiated by the opposition following Russian President Vladimir Putin's remarks last week that Ukraine was ready to set up a joint gas venture with Russia to manage the gas pipelines across its soil.
Supporters of opposition leader Yuliya Tymoshenko briefly blocked parliamentary activity earlier in the day to force a vote on the legislation.
(Reuters, UNIAN)
The Post-Soviet Petrostate
The Post-Soviet Petrostate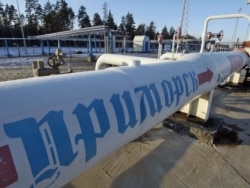 The oil-export terminal at Primorsk, Russia (TASS)


WEALTH AND POWER. At an RFE/RL briefing in Washington on January 24, Freedom House Director of Studies Christopher Walker and RFE/RL regional analyst Daniel Kimmage argued that energy-sector wealth is preventing many former Soviet countries -- Azerbaijan, Kazakhstan, Russia, and Turkmenistan -- from developing strong democratic institutions.
LISTEN
Listen to the entire briefing (about 90 minutes):

Real Audio
Windows Media
RELATED ARTICLES
Russia's Gazprom Looks Ahead To A New Year
Azerbaijan: Coping With The Oil Windfall
Azerbaijan Boom Sparks Fears Of Dutch Disease
Kazakh President Tells West -- We Don't Need Your Advice
Could Turkmen President's Death Lead Instability?