State television also reported the arrival of a delegation from the OSCE Parliamentary Assembly.
The delegation is headed by the new president of the OSCE Parliamentary Assembly, Goran Lennmarker. They will hold talks in parlament, meet with officials and visit voting stations in Ashgabat and Akhal province.
The presidential election, called after former President Saparmurat Niyazov died in December, will be the country's first in 15 years.
Although foreign delegations are in Turkmenistan, there are no official foreign monitors there for Sunday's election.
(with material from turkmenistan.ru)
Saparmurat Niyazov, 1940-2006
Saparmurat Niyazov, 1940-2006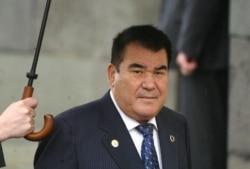 Turkment President Saparmurat Niyazov (bymedia.net)

ERA OF UNCERTAINTY. The death of Turkmen President Saparmurat Niyazov ends an era and begins a period of great uncertainty in Turkmenistan....(more)
RELATED ARTICLES
Could Niyazov's Death Lead To Political Struggle, Instability?
President's Death Brings Muted World Reaction
Energy Analyst Discusses Impact Of Niyazov's Death
Niyazov's Death Prompts Integration Hopes, Gas Worries In Russia
ARCHIVE
RFE/RL's coverage of
Turkmenistan
.