All six of the candidates were forwarded as candidates at a session of the country's highest legislative body -- the Halk Maslahaty, or People's Council -- on December 26 at which the date was set for the presidential election.
All are identifying specific targets for change -- in hopes of raising their profiles for voters -- while pledging to continue most of the so-called Turkmenbashi's (literally, "the head of the Turkmen") policies. Those policies made Turkmenistan one of the most isolated countries in the world, known abroad mainly for its riches of fossil fuels and the eccentric practices of its late president.
Niyazov's death in late December could mark the end of that era.
The candidates have been on the campaign trail for more than a month now, trying to win voter trust in a country where public dissent has been virtually wiped out.
Gurbanguly Berdymukhammedov
The clear favorite is acting President Gurbanguly Berdymukhammedov, who stepped into the vacuum in the hours following the death announcement. He is a dentist by training who was health minister in Niyazov's cabinet and spent nearly a decade in the senior ranks of government.
Forty-nine-year-old Berdymukhammedov has vowed to restore Turkmenistan's educational system, undoing "reforms" that included cutting the length of mandatory schooling, reducing enrollment at the country's scarce universities, and dismissing many teachers.
"In our country's universities, the curriculum will adhere to international norms," Berdymukhammedov said. "If need be, we will bring teachers, scientists, and specialists from the best schools in the world to come and teach our students."
It is unclear from Berdymukhammedov's comments whether he plans to reduce or eventually abandon the mandatory study of late President Niyazov's book, "Rukhnama" (Book of the Soul).
Berdymukhammedov is also promising more and better housing and greater attention to the physical well-being of the country's youth.
Berdymukhammedov enjoys a number of advantages over the rest of the field. As acting president, the state-owned media has focused far more attention on Berdymukhammedov than the other candidates.
Central Election Commission Chairman Murat Karryev appeared to confirm observers' worst fears by saying publicly that he would "do everything" to ensure Berdymukhammedov's victory.
One Turkmen analyst noted coldly that, of the other five candidates, "no one knows them except their relatives."
None of those other men is a "top-level" official. But still they are out in public, campaigning.
Ashyrnyaz Pomanov
Ashyrnyaz Pomanov is arguably the best known of Berdymukhammedov's five challengers, simply because he is the mayor of the Caspian coast city Turkmenbashi (formerly Krasnovodsk). Turkmenbashi city is one of the few major urban areas in Turkmenistan, with a population of more than 200,000. Forty-four-year-old Pomanov has been mayor since 2005. His platform includes boosting tourism.
"I have been working as a mayor of Turkmenbashi city for two years," Pomanov said. "Year by year, the number of travelers in summertime to this place is growing. Improving conditions for them is the state's obligation. Foreigners can travel here. The tourism industry must be developed. It should be tourism that brings revenues to the state."
But increasing tourism may not have much appeal for the average Turkmen voter. Niyazov's government fostered suspicion of foreigners, and security forces were ordered to keep close watch on the activities of foreign nationals when they visited Turkmenistan. Turkmen citizens were also discouraged from contact with outsiders.
Orazmyrat Garajaev
Forty-six-year-old candidate Orazmyrat Garajaev has been the mayor of Abadan, a city of 40,000 people outside the country's capital, since 2005. Garajaev studied engineering and served in the ideological department of the Communist Party under Soviet rule. He subsequently focused on production and industry -- and has pinned his hopes on an appeal for economic liberalization.
"All measures will be taken to develop the market economy, [and] private businesses," Garajaev said.
Fifty-one-year-old Ishanguly Nuryev has been a deputy minister of the gas industry and mineral resources since December 2005. He has campaigned on pledges to improve the economy and decrease Turkmenistan's economic isolation.
"I will concentrate my attention on supporting the private production of goods, joining the national economy to the global economic system, raising hard-currency reserves, working out a highly profitable budget with no deficit, and providing a high exchange rate for the national currency," Nuryev said.
Amanyaz Atajykov
Amanyaz Atajykov, the first deputy governor of Turkmenistan's northern Dashoguz Province, is the oldest candidate at 59 years of age. He is promising something that could have broad appeal in Turkmenistan, where nearly 60 percent of the population is rural.
"Once and for all, giving private land ownership to farmers, protecting the farmers' interests [and] opening the doors for businesses will be the main direction of my program," Atajykov said.
Other candidates have made reference to land reform, as well.
Mukhammetnazar Gurbanov
Forty-nine-year-old Mukhammetnazar Gurbanov is a head of a district (Karabekaul) in the eastern Lebap Province. He appears to be targeting the country's youth, vowing to provide them jobs and a healthier environment:
"One of our main tasks will be concern for youth welfare," Gurbanov told a campaign audience.
Critics Abroad
The election will inevitably fall short of Western democratic standards, as have all of Turkmenistan's elections since independence in 1991. The Organization for Security and Cooperation in Europe (OSCE) has deployed an election team to Turkmenistan but will issue no official assessment.
Albert jan Maat is the Dutch chairman of the European Union's Interparliamentary Delegation to Turkmenistan and a European Parliament deputy. He argues that the February 11 presidential poll is not a "real" election and might not be cause for optimism.
"These elections, only with candidates from the former government -- you can't call them real elections, and that is not a [good] start for a more open society," jan Maat said.
Former Turkmen parliamentarian Halmurat Soyunov is now part of the country's opposition-in-exile. He claims the entire process should be considered illegitimate because the Turkmen people played no part in nominating candidates.
"All candidates in the February 11 presidential election are nominated by the leadership of the government, but not by the people," Soyunov said. "Here we see a violation of the constitutional [right] of the citizens to vote and elect [their representatives]."
Preliminary results from Sunday's election are not expected until at least February 12.
(RFE/RL's Turkmen Service contributed to this report.)
Reaction To Saparmurat Niyazov's Death
Reaction To Saparmurat Niyazov's Death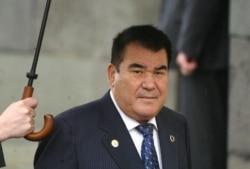 The late Turkmen President Saparmurat Niyazov (bymedia.net)


SUCCESSION WORRIES. RFE/RL's language services gathered early regional reaction to the death of long-time Turkmen President Saparmurat Niyazov.
Russian Foreign Minister Sergei Lavrov: We hope the handover of power is carried out in the framework of the law, that continuity in our relations is ensured, that the new leadership works for the good of the citizens of Turkmenistan, for the good of all those who live in the country, for the development of relations with Russia and for maintaining stability in the Central Asian region.
Russian Deputy Duma Speaker Vladimir Zhirinovsky: [Niyazov] chose the form of government that suits exactly the conditions of all those who live in Turkmenistan. There is no other way to rule Turkmenistan. He set a standard which an absolute majority, 90 percent of Turkmenistan's citizens, were content about. And he never created his own cult [of personality].
Russian Communist Party leader Gennady Zyuganov: Niyazov has done a lot for the country. Most importantly, he has been able to subordinate the interests of the gas-production industry to the needs to every Turkmen citizen. They have had access to everything at minimal prices and even for free.
Darigha Nazarbaeva, member of the Kazakh parliament and the daughter of Kazakh President Nursultan Nazarbaev: It is very unexpected, strange. It is very hard to comment now. Who will replace him? What political forces might come? With what thoughts and ideas? How would they see the future of the Turkmen nation? Everyone of us have these kinds of questions in our heads now. We shall see what is going to happen. Time will tell.
Bolat Abishev, member of the Kazakh parliament: May peace be upon him. We cannot say anything else about a person who has left us. He gave a lot of help to mothers with many children, for handicapped citizens. There were free gas, flour, and food. These and other issues have been solved, only thanks to him. And, I think now, there is a possibility for more freedom. Whoever comes after him must make changes. Before, everything depended upon him. Now, new people will come to power in this country
Former Georgian President Eduard Shevardnadze: Some say [Niyazov] was overly strict and demanding and, of course, there was cast-iron discipline in his country. Maybe some people did have some fear of him, but he brought order to the country, built such a large state, developed the capital, and that should be taken into account too. Of course, the methods used to achieve all that are also something to consider, but I personally do not believe that he was a such a dictator that he burdened his subjects with his rule.
Afghan President Hamid Karzai's chief of staff, Jawed Ludin: The president of Afghanistan is of course saddened by the news of the death of Turkmen President Niyazov. The Turkmen leader had very good relations with our president.
Moheddin Kabiri, leader of Tajikistan's Islamic Renaissance Party: [Niyazov's] death will have an impact on the political situation in Turkmenistan and also in the region. We however hope that it will not lead to political instability.