Former Turkmen central bank chief Khudaiberdy Orazov and former Turkmen Ambassador to Turkey Nurmukhammed Hanamov made the announcement at a press conference in Ukraine's capital, Kyiv.
They also called on Europe, Russia, and the United States to help foster democracy in Turkmenistan following the death of President Saparmurat Niyazov.
Orazov, Hanamov, and other members of the Union of Democratic Forces of Turkmenistan, a coalition of Turkmen opposition groups, arrived in Kyiv on December 23 hoping Ukraine's government could help arrange a flight for them to Turkmenistan.
The opposition representatives want to attend the scheduled session of the Halk Maslahaty (People's Council) on December 26 when the date and candidates for the presidential election are due to be named.
Turkmen security agencies have already warned the opposition leaders they will be arrested on arrival at any Turkmen airport should they try to return.
On December 21, Turkmen state media announced Turkmen President Saparmurat Niyazov's death. Niyazov was buried on December 24 in his native village of Gipchak.
(Interfax-Ukraine)
Saparmurat Niyazov, 1940-2006
Saparmurat Niyazov, 1940-2006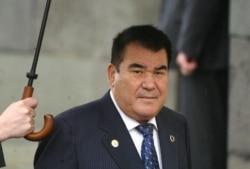 Turkment President Saparmurat Niyazov (bymedia.net)

ERA OF UNCERTAINTY. The death of Turkmen President Saparmurat Niyazov ends an era and begins a period of great uncertainty in Turkmenistan....(more)
RELATED ARTICLES
Could Niyazov's Death Lead To Political Struggle, Instability?
President's Death Brings Muted World Reaction
Energy Analyst Discusses Impact Of Niyazov's Death
Niyazov's Death Prompts Integration Hopes, Gas Worries In Russia
ARCHIVE
RFE/RL's coverage of
Turkmenistan
.