For instance, now that Niyazov is dead who will take the place of the man who has ruled in Turkmenistan since 1985, when it was a Soviet republic.
The country's interim leader is Deputy Prime Minister and Health Minister Gurbanguly Berdymukhammedov, but constitutionally he can only stay there for three months.
'Lack Of Clarity'
Erika Dailey, a leading authority on Turkmenistan and the director of the Open Society Institute's Turkmenistan Project, told RFE/RL today that simply electing a new president will be a challenge for Turkmenistan.
"There's a tremendous lack of clarity on this point," she said. "The mechanisms for providing for a transition of government have largely been dismantled. Niyazov had been designated as president for life; he had suspended all presidential-level elections at least until 2010. He has no known successor and so there's no formal clarity on this point yet."
Dailey added that although the situation in Turkmenistan appears calm for the moment, the real situation in the country will only become clearer after a few days.
"The government has so far been responding in a very calm manner," she said. "They are, for the moment, remaining loyal. There have been indications that things will remain stable -- apparently the situation on the ground is for the moment stable -- probably a little bit of shock is feeding that but for the moment there's loyalty and we'll see how that changes or doesn't change in the coming days."
Coping With The Cult
Dailey said no matter who follows Niyazov it will be difficult for that person to rule in a country where one man, Niyazov, had the final say on all issues.
"Whoever succeeds him is going to have an enormous task ahead of them, again because the structures for a succession have been replaced by the imperatives of the personality cult," Dailey noted. "Niyazov's authority was based solely on his personality. He had taken over all three branches of government. So there hadn't been any practice of democratic structures -- despite the constitutional guarantees -- in the 14 years he was president. So whoever comes next is going to face an enormous task of finding simply his or her identity in the current structures."
Who's Next?
Few people had ever heard of interim leader Gurbanguly Berdymukhammedov prior to today. According to Turkmenistan's Constitution, the parliament speaker should have become the acting head of state, but that person is now facing criminal charges. Dailey said there is probably a lot of political activity under way behind the scenes in Turkmenistan and that situation will continue for some days to come.
"It's not at all surprising that certainly in this immediate time following the announcement of Niyazov's death there is going to be some significant jockeying for power within his inner circle," Dailey said. "At the same time there are going to be some forces outside the country -- notably the exiled political opposition and, of course, organized crime largely connected with the oil and gas industry -- who are all going to be vying to put in someone who will be loyal to their interests. But it's not at all surprising that his inner circle will undergo the same sort of instability and shifting that has been very typical of that sort of entourage."
As for Turkmenistan's role in the international community, that seems likely to change also. The UN formally recognized Turkmenistan as a neutral country in 1995. The Turkmen government under Niyazov interpreted that as an excuse to become an isolationist state, restricting the ability of its citizens to leave the country and for foreigners to enter it. But Dailey said there are international organizations and countries that should be anxious to help Turkmenistan break out of its isolation now that Niyazov is dead.
Is Neutrality Dead?
"Turkmenistan had been pursuing a formal policy of neutrality and it's not clear where its status will leave it in the regional context," Daily said. "Internationally, it has largely been a pariah state and it does not have strong allies anywhere in the international community. However, there's certainly an imperative for international bodies such as the European Union and, bilaterally, relations with the U.S. and others...to at least have the potential to offer constructive responses to help fill the current political void."
Of course, the role of Russia is a key question for Turkmenistan's future, and Dailey explained why Russia may have influence and certainly has an interest in the future leadership of Turkmenistan.
"Given the history of the Soviet Union and the enormous role that Gazprom plays in Turkmenistan these days, it's highly likely that Russia will also bid formally or informally to put in someone who will be loyal to their interests in order to maintain the import-export relationship that certainly until now has been enormously lucrative for Russia," she said.
But while groups and countries scramble to help the new Turkmen leadership or try to assert their influence into Turkmen politics, foreign reaction has already clearly demonstrated that Niyazov will not be greatly missed, as Dailey explained.
"There's been very little pretense that he will be lamented as a world leader," she said. "He is clearly one of the most notorious and most repressive dictators that the 20th century has seen. So I think that for countries that don't need to have a pretense of a sadness and grief over his passing would not even attempt it."
Human Rights In Turkmenistan
Human Rights In Turkmenistan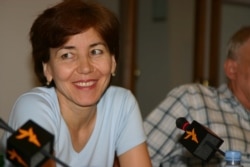 Tajigul Begmedova speaking at RFE/RL in Prague on July 21 (RFE/RL)
LIFE UNDER NIYAZOV:
On July 21, RFE/RL's Prague broadcasting center hosted a presentation by
TAJIGUL BEGMEDOVA,
chairwoman of the Bulgaria-based Turkmenistan Helsinki Foundation for Human Rights (THF). Begmedova discussed the human rights situation in Turkmenistan under President Saparmural Niyazov, focusing on the arrests in June of THF activists and RFE/RL Turkmen Service correspondent Ogulsapar Muradova. Begmedova, who graduated from the Institute of Economy in Moscow in 1987, fled Turkmenistan in 2002 and lives in exile in Sofia.
LISTEN
Listen to the complete presentation (36 minutes; presentation in Russian with consecutive translation into English):

Real Audio
Windows Media
Some RFE/RL Coverage Of Human Rights In Turkmenistan:
Media Coverage Of Leader Distracts From Real Problems
Authorities Cast Wide Net In Conspiracy Allegations
Embattled Turkmen Writer Honored Abroad
RFE/RL Correspondent Recounts Arrest
ARCHIVE
RFE/RL coverage of Turkmenistan.


THE COMPLETE STORY: Click on the icon to view a dedicated webpage bringing together all of RFE/RL's coverage of Kazakhstan, Kyrgyzstan, Tajikistan, Turkmenistan, and Uzbekistan.