But the situation has remained calm, with Gurbanguly Berdymukhammedov carrying out what appears to be a smoothly choreographed succession. A presidential election is scheduled for February 11, and Berdymukhammedov -- who survived countless purges to rise to the post of deputy prime minister -- has taken pains to reassure the international community that Turkmenistan will honor all of its existing natural-gas contracts.
Berdymukhammedov said Turkmenistan would "strive to deliver energy resources, especially natural gas, to world markets, adhering to the existing contracts and looking for new partners."
Looking To Diversify
And by all accounts, gas has continued to stream northward to Russia and, in lesser quantities, southward to Iran. At the same time, the acting president has suggested that Turkmenistan may seek to diversify its current export options, currently all dependent on Russia with the exception of a single pipeline to Iran.
Berdymukhammedov's strongest hint at a commitment to diversification came at a meeting with voters in mid-January (in Lebap Province on January 17, NewsCentralAsia reported the next day). Referring to an April 2006 agreement to supply China with 30 billion cubic meters of gas a year beginning in 2009, Berdymukhammedov vowed that Turkmenistan would meet its obligation ("from the right bank of Amudarya") to Beijing. In televised comments, he added that the country would "strive to deliver [Turkmenistan's] energy resources, especially natural gas, to world markets, adhering to the existing contracts and looking for new partners," AP reported.
Discussing The Routes
The comment is striking in light of a report in Russia's "Nezavisimaya gazeta" within days of Niyazov's death in late December. The paper reported that a preliminary agreement might have emerged on the precise route for a planned Turkmenistan-China pipeline -- a massive undertaking that would span thousands of kilometers and could cost up to $10 billion.
Kazakh President Nursultan Nazarbaev visited China in late December. According to the Russian newspaper, a source told Interfax that in the course of Nazarbaev's visit, talks touched on the choice between a pipeline only through Kazakhstan or through Kazakhstan and Uzbekistan. The source reportedly said that "preference was given to the Kazakhstan option, although the details weren't discussed."
How probable is it that Turkmenistan's new leadership -- if it succeeds in consolidating its power -- will move on the China pipeline? When the framework agreement was signed during Niyazov's trip to Beijing less than a year ago (April 2006), experts greeted the project with skepticism. They pointed to the geographic and political obstacles, and high costs. Some viewed the proposed pipeline as a bargaining ploy in negotiations with Russia, which could stand to lose out if Turkmenistan began shipping gas to China without boosting production. And indeed, later in 2006 Ashgabat secured a hefty price increase from Moscow.
Still, Berdymukhammedov's public emphasis on the pipeline project to China is noteworthy. And the possibility that Kazakhstan might have agreed to be the transit country is plausible. Russian opposition to a Turkmenistan-China gas pipeline is a near certainty. Moreover, Uzbekistan's international isolation and close ties to Russia render it an unlikely choice as a transit country for a pipeline project that Moscow would like to scupper. Kazakh President Nazarbaev, on the other hand, is the regional master of multi-vector foreign policy, and he recently appointed a Chinese-speaking prime minister, Karim Masimov.
None of this renders the expensive, complex pipeline probable. But it edges it closer to the realm of the possible.
China In Central Asia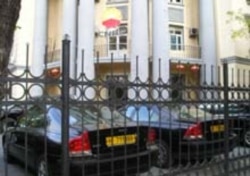 The Almaty,Kazakhstan, office of China's National Petroleum Corporation (RFE/RL)
BEIJING ON THE RISE:
The September 11, 2001, terrorist attacks against the United States prompted Washington to topple the Taliban regime in Afghanistan. At the time, many predicted the United States would gain a new foothold in Central Asia: new U.S. military bases appeared in Kyrgyzstan and Uzbekistan, U.S. foreign aid increased, and much U.S. attention was lavished on the region. Russia and China looked on warily. But the pendulum may be swinging back in Moscow's and Beijing's favor. China, especially, has expended great effort at winning friends in Central Asia and is becoming a force to be reckoned with
....(more)
RELATED ARTICLES
Turkmenistan-China Pipeline Project Has Far-Reaching Implications
Central Asia Looks To Fuel Asia's Economic Boom
The Geopolitical Game In Central Asia
ARCHIVE
To view an archive of RFE/RL's coverage of China, click here.

SUBSCRIBE
For weekly news and analysis on all five Central Asian countries by e-mail, subscribe to "RFE/RL Central Asia Report."