But the situation has remained calm, with Gurbanguly Berdymukhammedov, a former dentist and longtime Niyazov insider, stepping into the departed Turkmenbashi's extravagant shoes in what appeared to be a smoothly choreographed succession. A presidential election is scheduled for February 11, and Berdymukhammedov -- who survived countless purges to rise to the post of deputy prime minister -- seems poised to triumph over five little-known competitors.
Nonetheless, there are indications of growing public discontent in the isolated country and even that this discontent is influencing the presidential campaign.
Berdymukhammedov made a number of statements in January promising reforms. These included the extension of secondary-school and university education, a review of pension payments, heightened attention to the agricultural sector, and broader access to the Internet.
With the exception of the sole civil-society initiative -- easier access to the Internet, which is currently heavily restricted -- all of these reforms seem eminently probable for the simple reason that they are aimed at reversing the deceased president's most onerous initiatives and reducing social tension.
"It is not the opposition based abroad that [officials] fear, but domestic protests," one Turkmen activist in exile noted.
Increasing school education from nine to 10 years, and university education from two years in a classroom plus two years of on the job training to five years, could give young people a greater sense of opportunity. Reviewing the pension system, which Niyazov curtailed in early 2006 despite reported protests, could benefit the most vulnerable sectors of society.
Agriculture-Sector Reform
The agriculture sector is a special case. Niyazov had spoken of the need for reform -- and sacked a number of officials for allegedly falsifying crop statistics -- shortly before his death amid unofficial reports of grain and bread shortages. Recent information is contradictory. Deutsche Welle reported on January 15 that despite daily Security Council meetings led by Berdymukhammedov and aimed at remedying the situation, supplies of seed and fertilizer remain inadequate, and bread and flour are still scarce in some regions.
But Farid Tukhbatullin, a representative of the Vienna-based Turkmenistan Initiative group told the Institute for War and Peace Reporting (IWPR) on January 13 that "there used to be problems with bread deliveries, and people would form long queues to buy it." But he added that his group has "information from Ashgabat, Lebap, and other regions that the shops are full of bread."
If his information is accurate, it might not indicate a fundamental improvement -- the regime could have tapped reserves to create a temporary surplus. But the overall emphasis on limited social reform points to high-level concern with the situation on the ground. An unidentified human rights activist now living outside Turkmenistan confirmed this in a comment to IWPR, saying that the authorities' "concern is that if something sparks protests, it will immediately blow up into a conflagration."
"It is not the opposition based abroad that [officials] fear, but domestic protests," the activist noted.
But the remainder of the January 13 IWPR report indicates that the authorities' knee-jerk reaction to the danger of social protest has been to step up surveillance of the populace by Turkmenistan's formidable security services. This is why -- despite the probability of limited reforms to reduce latent social tensions -- any significant relaxation of the country's numerous restrictions on civil society -- including access to information -- appears, for now, less than probable.
Human Rights In Turkmenistan
Human Rights In Turkmenistan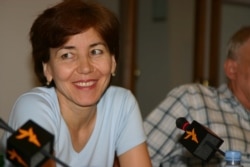 Tajigul Begmedova speaking at RFE/RL in Prague on July 21 (RFE/RL)
LIFE UNDER NIYAZOV:
On July 21, RFE/RL's Prague broadcasting center hosted a presentation by
TAJIGUL BEGMEDOVA,
chairwoman of the Bulgaria-based Turkmenistan Helsinki Foundation for Human Rights (THF). Begmedova discussed the human rights situation in Turkmenistan under President Saparmural Niyazov, focusing on the arrests in June of THF activists and RFE/RL Turkmen Service correspondent Ogulsapar Muradova. Begmedova, who graduated from the Institute of Economy in Moscow in 1987, fled Turkmenistan in 2002 and lives in exile in Sofia.
LISTEN
Listen to the complete presentation (36 minutes; presentation in Russian with consecutive translation into English):

Real Audio
Windows Media
Some RFE/RL Coverage Of Human Rights In Turkmenistan:
Media Coverage Of Leader Distracts From Real Problems
Authorities Cast Wide Net In Conspiracy Allegations
Embattled Turkmen Writer Honored Abroad
RFE/RL Correspondent Recounts Arrest
ARCHIVE
RFE/RL coverage of Turkmenistan.


THE COMPLETE STORY: Click on the icon to view a dedicated webpage bringing together all of RFE/RL's coverage of Kazakhstan, Kyrgyzstan, Tajikistan, Turkmenistan, and Uzbekistan.