The commission also gave orders for all 65 electoral districts to start preparing for the election.
The candidates are current acting President Gurbanguly Berdymukhammedov; Deputy Petroleum Industry and Mineral Resources Minister Ishanguly Nuryev; Abadan city head Orazmyrad Garajayev; Turkmenbashi city Governor Ashirniyaz Pomanov; parliament deputy and First Deputy Governor of the Dashoguz region Amanyaz Atajykov; and the head of the Karabekaul district, Mukhammetnazar Gurbanov.
CEC chief Murad Karryev has said he would "do everything" to make sure Berdymukhammedov wins "because he is a worthy candidate."
Turkmenistan's state newspapers today published the new law on presidential elections, adopted at a December 26 session of the Halk Maslahaty (People's Council).
Under President Saparmurat Niyazov, who died last week after leading independent Turkmenistan since 1991, a law on presidential elections was never adopted.
(ITAR-TASS)
Human Rights In Turkmenistan
Human Rights In Turkmenistan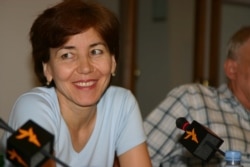 Tajigul Begmedova speaking at RFE/RL in Prague on July 21 (RFE/RL)
LIFE UNDER NIYAZOV:
On July 21, RFE/RL's Prague broadcasting center hosted a presentation by
TAJIGUL BEGMEDOVA,
chairwoman of the Bulgaria-based Turkmenistan Helsinki Foundation for Human Rights (THF). Begmedova discussed the human rights situation in Turkmenistan under President Saparmural Niyazov, focusing on the arrests in June of THF activists and RFE/RL Turkmen Service correspondent Ogulsapar Muradova. Begmedova, who graduated from the Institute of Economy in Moscow in 1987, fled Turkmenistan in 2002 and lives in exile in Sofia.
LISTEN
Listen to the complete presentation (36 minutes; presentation in Russian with consecutive translation into English):

Real Audio
Windows Media
Some RFE/RL Coverage Of Human Rights In Turkmenistan:
Media Coverage Of Leader Distracts From Real Problems
Authorities Cast Wide Net In Conspiracy Allegations
Embattled Turkmen Writer Honored Abroad
RFE/RL Correspondent Recounts Arrest
ARCHIVE
RFE/RL coverage of Turkmenistan.


THE COMPLETE STORY: Click on the icon to view a dedicated webpage bringing together all of RFE/RL's coverage of Kazakhstan, Kyrgyzstan, Tajikistan, Turkmenistan, and Uzbekistan.