The 66-year-old Niyazov, know as Turkmenbashi, died from a heart attack on Thursday after 21 years of authoritarian rule.
Niyazov's funeral is set for December 24 and the country's highest representative body will meet on December 26 to decide set a date for a presidential election.
Preparing For A New Election
Until the poll -- which should be held within two months -- Deputy Prime Minister Gurbanguly Berdymukhammedov will be acting head of state.
"Today there was held an extraordinary session of the Security Council of Turkmenistan, the cabinet ministers of Turkmenistan, and the parliament," Berdymukhammedov said in a speech on national television on December 21. "The issues of organizational matters were discussed in connection with the sudden death of our dear Turkmenbashi the Great, beloved son of the Turkmen people."
Berdymukhammedov said the election would be democratic.
However, it's unclear how presidential candidates are to be nominated before they are considered by the People's Council, a body made up of some 2,000 officials and elders who were handpicked by Niyazov.
The European Union has urged Turkmenistan to carry out its political transition "in accordance with international standards.
U.S. President George W. Bush expressed his sympathies on December 21.
The White House said the United States is looking forward to continuing to expand its relations with Turkmenistan, "to a bright future for that country, and to a government that provides justice and opportunity for its people."
"We'll see how this unfolds in the days, weeks, and months ahead," U.S. State Department spokesman Sean McCormack said on December 21. "It is certainly a sudden change for Turkmenistan and the Turkmen people, and I think they have to come to grips with that change and what their future will be."
In the U.S. Congress, Representative Christopher Smith (Republican, New Jersey) said Niyazov's death will give the new leadership of Turkmenistan "the opportunity to ensure the right of their oppressed people to exercise their religious beliefs without hindrance."
Smith said "religious speech is severely limited" in Turkmenistan and unregistered religious activity is illegal.
Call For Amnesty
The international media rights group Reporters Without Borders (RSF) on the same day called on Tukmenistan's new interim authorities to release political prisoners and journalists from Turkmen jails.
The Turkmenistan Helsinki Foundation rights group estimates there are some 4,000 political prisoners in Turkmenistan.
Russian President Vladimir Putin said on December 22 that Niyazov was a friend of Russia and that "his name was associated with the establishment of sovereign Turkmenistan, the strengthening of the country's international position, and development of its economy."
ITAR-TASS has reported that Russian Prime Minister Mikhail Fradkov is expected to attend Niyazov's funeral on December 24.
It was also announced on December 21 that Ukrainian President Viktor Yushchenko will attend Niyazov's funeral .
Iryna Vannykov, a spokeswoman for the Ukrainian president, said that Yushchenko would lead an official Ukrainian delegation to Ashgabat.
Vannykov said Yushchenko considered Niyazov "a true friend" of Ukraine.
"The president of Ukraine expressed sympathy, personally and on behalf of the people of Ukraine, over the death of Turkmen President Saparmurat Niyazov," Vannykov said. "Viktor Yushchenko stressed that Saparmurat Niyazov was known in Ukraine as a national leader, an experienced politician and a true friend of Ukraine. The head of state notes that, thanks to Niyazov's activities and his personal qualities, Turkmenistan has carried out large-scale programs in the economic, social and cultural fields and has firmly secured its international position."
Niyazov's funeral will take place in the late president's home village of Kipchak.
Meanwhile, some members of Turkmenistan's opposition-in-exile are vowing to return to their homeland.
Former Turkmen Foreign Minister Avdy Kuliev, now a leader in the Union of Democratic Forces of Turkmenistan, informed RFE/RL's Turkmen Service the group's leadership had already discussed their return in the near future.
The group claimed that a charter plane was available for their use in Ukraine.
(with material from agency reports)
Saparmurat Niyazov, 1940-2006
Saparmurat Niyazov, 1940-2006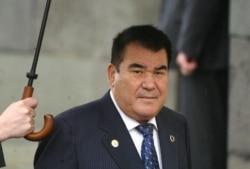 Turkment President Saparmurat Niyazov (bymedia.net)

ERA OF UNCERTAINTY. The death of Turkmen President Saparmurat Niyazov ends an era and begins a period of great uncertainty in Turkmenistan....(more)
RELATED ARTICLES
Could Niyazov's Death Lead To Political Struggle, Instability?
President's Death Brings Muted World Reaction
Energy Analyst Discusses Impact Of Niyazov's Death
Niyazov's Death Prompts Integration Hopes, Gas Worries In Russia
ARCHIVE
RFE/RL's coverage of
Turkmenistan
.