Meeting with residents of Turkmenabat, in the eastern Lebap Region, Berdymukhammedov said on January 17 that, should he be elected in the February 11 poll, the best Turkmen students will be allowed to study abroad.
He also said he would ensure that Turkmens have access to a better health-care system and high-quality, Western-made medications.
Turkmenistan's education and health sectors suffered severely under the 16-year presidency of Saparmurat Niyazov, who died last month.
Berdymukhammedov, a former health minister who took over as acting president after Niyazov's death, is largely expected to win the election.
He promised that salaries will be regularly increased and that Turkmens will continue to receive free gas, electricity, water, and salt.
(turkmenistan.ru, TDH)
Saparmurat Niyazov, 1940-2006
Saparmurat Niyazov, 1940-2006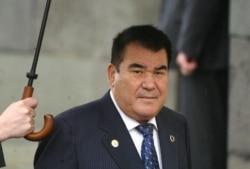 Turkment President Saparmurat Niyazov (bymedia.net)

ERA OF UNCERTAINTY. The death of Turkmen President Saparmurat Niyazov ends an era and begins a period of great uncertainty in Turkmenistan....(more)
RELATED ARTICLES
Could Niyazov's Death Lead To Political Struggle, Instability?
President's Death Brings Muted World Reaction
Energy Analyst Discusses Impact Of Niyazov's Death
Niyazov's Death Prompts Integration Hopes, Gas Worries In Russia
ARCHIVE
RFE/RL's coverage of
Turkmenistan
.