Niyazov died December 21 after leading independent Turkmenistan since 1991.
Acting President Gurbanguly Berdymukhammedov has promised the February 11 vote will conform to Niyazov's concept of democracy.
All the candidates, who include Berdymukhammedov, were chosen by the country's highest legislative body, the People's Council.
No opposition candidates have been registered.
The United States has called on Turkmenistan to conduct a "free, fair, and open election." The U.S. State Department said Washington wants Turkmenistan to have "the most representative government possible."
Meanwhile, a member of the Turkmen opposition, Nurberdy Nurmammedov, remains missing. He disappeared after leaving his home in Ashgabat on December 23.
(AP)
Saparmurat Niyazov, 1940-2006
Saparmurat Niyazov, 1940-2006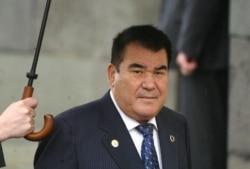 Turkment President Saparmurat Niyazov (bymedia.net)

ERA OF UNCERTAINTY. The death of Turkmen President Saparmurat Niyazov ends an era and begins a period of great uncertainty in Turkmenistan....(more)
RELATED ARTICLES
Could Niyazov's Death Lead To Political Struggle, Instability?
President's Death Brings Muted World Reaction
Energy Analyst Discusses Impact Of Niyazov's Death
Niyazov's Death Prompts Integration Hopes, Gas Worries In Russia
ARCHIVE
RFE/RL's coverage of
Turkmenistan
.