New York-based Human Rights Watch said a "new dictatorship" would be consolidated in Turkmenistan by the February 11 presidential election unless the international community insisted on real human rights reform.
The group's Europe and Central Asia director, Holly Cartner, said in a statement that the vote would be neither free nor fair, and that the result was "a foregone conclusion."
Meanwhile, Amnesty International called on Turkmenistan to take immediate steps to end its policies of torture, political imprisonments, and forced exile.

In a statement today, Amnesty International said the successor to former President Saparmurat Niyazov, who died in December, must make an immediate break with the country's legacy of repression. It called on the new leadership -- expected to be led by interim President Gurbanguly Berdymukhammedov -- to release political prisoners and make a public commitment to respect and protect human rights.
"It is certainly a crucial time for Turkmenistan now. And it's a chance for Turkmenistan to change its image in the world and to make a commitment for human rights and to reform," Amnesty International researcher on Turkmenistan Anna Sunder-Plasman told RFE/RL today. "And we believe that the new president who will come to power after the elections must break with the country's long legacy of repression."

The presidential vote on February 11 will be the first election since 1992.

International observers have already raised concerns about the upcoming vote. The Dutch chairman of the European Union's Interparliamentary Delegation to Turkmenistan, Albert Jan Maat, on February 7 told RFE/RL that the poll will not be a "real" election, and does not indicate a promising start for a more open society.

(with material from Reuters)

Saparmurat Niyazov, 1940-2006
Saparmurat Niyazov, 1940-2006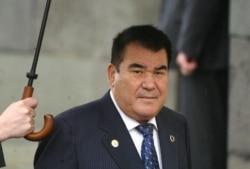 Turkment President Saparmurat Niyazov (bymedia.net)

ERA OF UNCERTAINTY. The death of Turkmen President Saparmurat Niyazov ends an era and begins a period of great uncertainty in Turkmenistan....(more)
RELATED ARTICLES
Could Niyazov's Death Lead To Political Struggle, Instability?
President's Death Brings Muted World Reaction
Energy Analyst Discusses Impact Of Niyazov's Death
Niyazov's Death Prompts Integration Hopes, Gas Worries In Russia
ARCHIVE
RFE/RL's coverage of
Turkmenistan
.