But the move that has created the greatest stir is his promotion of Sergei Ivanov, who had been heading the Defense Ministry.

"I have signed a decree expanding Sergei Borisovich Ivanov's responsibilities in the government of the Russian Federation, giving him the duties of coordinating, in addition to the military-industrial complex, the civilian sector of the economy," Putin announced. "Sergei Borisovich's status is raised to the level of first deputy chairman of the Russian government."

Equal Standing

The appointment gives Ivanov the same rank as Dmitry Medvedev, who is widely expected to be Ivanov's main rival in the 2008 presidential race.

Many Russians have long suspected that their president has been grooming one of the two men to be his successor. Both appear frequently on the tightly-controlled television news broadcasts, visiting farms and factories, and beaming for the cameras.

But Kremlin watchers say placing Ivanov and Medvedev in the same position means Putin hasn't yet thrown his weight behind one man. Sergei Mulin, a political commentator for the newspaper "Novaya gazeta," said the reshuffle put both men on an equal standing in the race for president.
"This is a new chance for Ivanov, because it's finally become clear that the post of defense minister isn't going to gain you much in the way of popularity." -- analyst Golts
"This fits perfectly with what the president was saying at his last press conference, which is that our country will have a free election involving two candidates," Mulin said. "What he didn't admit was that both candidates would be supplied by the Kremlin."

The Russian Constitution bars Putin from running for a third term in office, and he has suggested in the past he will back a successor as the election draws nearer. Whichever candidate gets his support is likely to win because of Putin's widespread popularity and the Kremlin's control over much of the media.

Ivanov's new appointment will distance him from the Defense Ministry, where he has been blamed for a catalogue of disasters, including bullying in the army and the sinking of submarines.

Aleksandr Golts, a military observer, said removing Ivanov from the post of defense minister could only raise his profile.

"I think this is a new chance for Ivanov, because it's finally become clear that the post of defense minister isn't going to gain you much in the way of popularity," Golts said. "The army wouldn't find itself in the situation it's currently in without the participation of Sergei Borisovich Ivanov. You can't count on a person gaining in popularity under such conditions. Hence this strange decision."

The Race Begins

There was little doubt in the Russian newspapers today about what Putin's surprise reshuffle meant.

"Rossiiskaya gazeta" said the race, whose prize was to become Putin's successor, had now begun in earnest.

"Izvestia" went further: "Thus begins the unfolding of Putin's answer to the 2008 problem," it wrote. "There will be no 'successor' to the post of president; the voters will have to choose between absolutely equal candidates."

The two men have very different personalities: Ivanov, like Putin, is 54, and is a former KGB colleague of the president's from St Petersburg. He often appears in military uniform and has criticized U.S. foreign policy. Medvedev, 41, is a former lawyer and teacher, and oversees a number of social development programs.
The presidential election campaign officially kicks off at the end of this year.
Russia Beyond 2008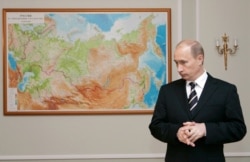 President Putin is mulling his political future (epa)

THE 2008 QUESTION: President Vladimir Putin's second term of office ends in the spring of 2008. Since the Russian Constitution bars him from seeking a third consecutive term, this event threatens to present a crisis in a country that has a history of managed power transitions. Already, Russian politics are dominated by the ominous 2008 question.
RFE/RL's Washington office hosted a briefing to discuss the prospects of Putin seeking a third term. The featured speakers were RFE/RL Communications Director Don Jensen and political scientist Peter Reddaway of George Washington University.
LISTEN
Listen to Don Jensen's presentation (about 16 minutes):
Real Audio
Windows Media
LISTEN
Listen to Peter Reddaway's presentation (about 35 minutes):
Real Audio
Windows Media
RELATED ARTICLES
Will Putin Pursue Third Term, Or Will It Pursue Him?
Could Yakunin Be 'First-Called' As Putin's Successor?
Putin Again Says He Won't Run For Third Term But Will 'Work' For Russia
Interview: Former Premier Kasyanov Warns Of Political Crisis
Former Premier Kasyanov Announces Run For President
ARCHIVE
RFE/RL's English-language
coverage of Russia
.

SUBSCRIBE
For news and analysis on Russia by e-mail,
subscribe to "RFE/RL Russia Report."