Health Ministry adviser Abdullah Fahim said the decision is part of "a precautionary and preventive measure."

The H5N1 strain was found in poultry in at least four provinces in 2006, leading to the killing of thousands of birds. There were no human deaths.

Afghanistan imports a large amount of poultry, mostly from Pakistan.
(Reuters)
Interview With UN FAO's Erwin Northoff
Interview With UN FAO's Erwin Northoff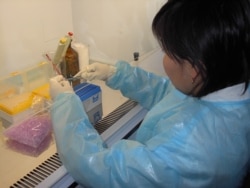 An expert at the National Virology Laboratory of the Kyrgyz Health Ministry (courtesy photo)
GETTING READY: Many have expressed concern about the ability of Central Asian countries to come to grips with a possible bird-flu outbreak. RFE/RL Turkmen Service correspondent Muhammad Tahir spoke with Erwin Northoff, news coordinator for the UN's Food and Agriculture Organization (FAO), about the issue. ....(more)