Gazprom recently announced that it plans to merge with a Russian coal supplier, the Siberian Coal Energy Company (SUEK). The merger, if approved by the federal antimonopoly watchdog, would create a holding company worth about $12 billion -- by far the largest in Russia's power sector -- with Gazprom in majority control.
Gazprom already owns the largest power-generating company in Russia, Mosenergo.
Future Job For Putin?
The proposed merger seems geared to ensure greater centralization of energy resources in Gazprom's hands and increase President Vladimir Putin's hold on the Russian energy market. It is a move that could translate into a strong power base for Putin after he leaves the Kremlin in 2008.
Earlier this year, Putin proposed that Russia's energy mix be changed and that coal be given a greater role. This makes sense, given that Gazprom is expected to struggle to meet domestic demand for gas as soon as 2008.
This latest struggle will do little to ease concerns in Europe about Russia's role as a reliable energy supplier.
Russia has the second-largest coal reserves in the world. As Russia seeks new ways of meeting its growing demand for electricity, coal is the obvious option.
The "Kommersant" daily reported on February 15 that a new law is being prepared in the State Duma that would regulate the energy mix for "years to come" and lower the domestic use of gas.
Critics of Gazprom's ambitions to move into the coal market say the move smacks of Soviet-style central planning and state capitalism.
Economic Development and Trade Minister German Gref said on February 16 that Gazprom's proposed merger with SUEK was bad for competition. Analysts fear that, if the Gazprom-SUEK merger goes ahead, Gazprom will control top utilities as well as their suppliers.
Struggle For Power
Gazprom's advance on the coal company comes as national utility Unified Energy System (EES) is broken up and sold to investors. Gazprom itself owns an 11 percent stake.
It is no secret that EES head Anatoly Chubais and the Kremlin have had differences since Putin was first elected. Chubais has been strongly critical of Gazprom's expected inability to meet domestic gas demand. He has said that this will necessitate closing down a number of regional energy-generating enterprises and could lead to shutdowns and brownouts.
He has also said that the Kremlin-controlled Gazprom is squandering funds on nonessential activities, while neglecting development of new gas fields in Russia.
Moreover, Chubais's strategy to liberalize the Russian power-generating market by selling off generating companies is not seen as being to the Kremlin's liking.
Chubais has never been regarded by Putin's team as an "insider." He is seen as the last remaining member of the Yeltsin "family." If he were forced out of EES and power generation switched over to Gazprom, inefficient as it might be, it would please the Kremlin no end.
This latest struggle in the energy sector will do little to ease concerns in Europe about Russia's role as a reliable energy supplier. If Gazprom is forced to maintain supplies to its domestic clients, European consumers could feel the pinch.
In January, the global ratings agency Fitch issued a negative report about Russia's power sector, describing it as a "very high-risk market," mainly due to political uncertainty.

Ukraine And European Energy Security
Ukraine And European Energy Security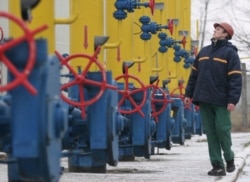 A worker inspects a gas facility outside of Kyiv (epa file photo)

MURKY CONNECTIONS. A year after the so-called gas war between Moscow and Kyiv, energy transhipments from Russia to Europe via Ukraine remain a concern. On December 1, RFE/RL's Washington office hosted a briefing featuring Tom Mayne, an energy researcher for the London-based Global Witness. Mayne discussed the lack of transparency in the energy sectors of Ukraine, Russia, and gas supplier Turkmenistan.
LISTEN
Listen to the entire briefing (about 60 minutes):

Real Audio
Windows Media
RELATED ARTICLES
Neighbors Watch As Russia Moves Toward WTO Membership
Kyiv Announces Terms Of New Russian Gas Deal
Former U.S. Ambassador Says Kyiv Can Cope With Gas Price Rise
ARCHIVE
RFE/RL's English-language coverage of
Ukraine
,
Russia
, and
Turkmenistan
.