Hadley's visit to the Russian capital is an apparent bid to patch up relations with Russia. The meeting comes amid harsh war of words over Washington's plans to build a missile-defense system in Central Europe.
Hadley and Ivanov struck a conciliatory tone at their Kremlin meeting -- a sharp contrast to the heated criticism exchanged in past weeks.
A smiling Hadley said that his country was eager to use dialogue to overcome conflicts with Russia.
Ivanov told his guest that Moscow, too, was keen to put aside disputes, including in the sphere of security.
But bilateral relations, Ivanov added, are not "cloudless."
End To Trade Dispute?
Russia's Security Council chief also said Moscow welcomed the call by U.S. Congressman Tom Lantos (Democrat, California) to lift the 1974 Jackson-Vanik amendment, which restricts trade relations with Russia.
The U.S. failure to scrap the agreement has long irked Russia.
Lantos made the remark earlier this week during a visit to Moscow.
Counterterrorism cooperation, nuclear issues and nonproliferation were expected to top the agenda of today's closed-door talks between Ivanov and Hadley.
Hadley, who is on a four-day trip covering Brussels, Moscow, and Berlin, is scheduled to hold talks with Russian President Vladimir Putin later today.
Chilly Ties
Relations between Moscow and Washington have been at a low ebb since the U.S. announced plans last month to deploy a missile-defense system in Poland and the Czech Republic.
The project has angered Moscow, which says the missile shield would upset the international balance of power.
Putin delivered his angriest attack yet on the United States at a security conference in Munich, Germany, on February 10.
He accused Washington of seeking to impose its will through what he called an "almost uncontained use of military force." American foreign policy, Putin went on, incites other nations to seek nuclear weapons to defend themselves.
U.S. Undersecretary of State Nicholas Burns has described Putin's speech "extraordinarily unwise."
(compiled from agency reports)

Russia And The West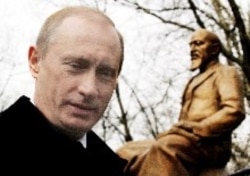 (epa)
COOPERATION, CONFLICT, CONFRONTATION: Relations between Russia and the West are notoriously volatile. "To see the kind of relationship that presidents Bush and Putin have developed and to see Russia firmly anchored in the West, that's really a dream of 300 years, not just of the post-Cold War era," then-national security adviser Condoleezza Rice said in May 2002.
But observers have increasingly called into question the extent of the shared values between Russia and the West, particularly on issues relating to the transformations going on in other former Soviet countries.
RELATED ARTICLES
Silent Diplomacy Versus Public Criticism
Analysts Say New Arms Race Unlikely
Moscow 'Unhappy' With Outcome Of CFE Conference
Moscow And Washington Spar Over WTO Membership
Russia Gears Up To Improve Its Image Abroad
Experts Urge U.S. To Rethink Relations With Russia
U.S. Official Says Russian NGO Law Part Of Antidemocratic Trend
ARCHIVE
To view an archive of RFE/RL's coverage of Russia, click here; to view an archive of RFE/RL's coverage of U.S.-Russian relations, click here.

SUBSCRIBE
For news and analysis on Russia by e-mail, subscribe to "RFE/RL Russia Report."