She made the statement today at a news conference in Berlin following talks with Ukrainian Prime Minister Viktor Yanukovych.
Talks between Merkel and Yanukovych focused on drafting a new Ukraine-EU cooperation agreement, whose current version expires in 2008.
Yanukovych acknowledged Ukraine has "much to do" to meet EU standards. He said the EU has signaled it is not shutting out Ukraine.
"Most importantly, we have received a signal that the doors of the European Union are open for Ukraine," Yanukovych said. "And this will be stated in the new agreement [on relations between Ukraine and the EU] for the next 10 years."
Merkel, whose country holds the rotating EU Presidency, did say, however, that she supports plans for a free-trade zone between the EU and Ukraine.
(AP, dpa, Interfax, ITAR-TASS)
Ukraine And European Energy Security
Ukraine And European Energy Security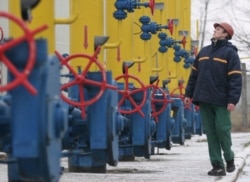 A worker inspects a gas facility outside of Kyiv (epa file photo)

MURKY CONNECTIONS. A year after the so-called gas war between Moscow and Kyiv, energy transhipments from Russia to Europe via Ukraine remain a concern. On December 1, RFE/RL's Washington office hosted a briefing featuring Tom Mayne, an energy researcher for the London-based Global Witness. Mayne discussed the lack of transparency in the energy sectors of Ukraine, Russia, and gas supplier Turkmenistan.
LISTEN
Listen to the entire briefing (about 60 minutes):

Real Audio
Windows Media
RELATED ARTICLES
Neighbors Watch As Russia Moves Toward WTO Membership
Kyiv Announces Terms Of New Russian Gas Deal
Former U.S. Ambassador Says Kyiv Can Cope With Gas Price Rise
ARCHIVE
RFE/RL's English-language coverage of
Ukraine
,
Russia
, and
Turkmenistan
.