The Baghdad security conference starts on March 10 and will include representatives from neighboring countries as well as the five permanent members of the UN Security Council.
"This conference will be the basis for the regional dialogue that we hope will lead to international and regional accordance and reconciliation, and to the support of the Iraqi government," al-Maliki said.
Al-Maliki's stress on the need for regional dialogue is shared by many of Iraq's neighbors -- including Saudi Arabia and Turkey.
Meanwhile, the U.S. alleges that Iran is interfering in Iraq, and that Syria is failing to stop cross-border activities which fuel the conflict.
Iraq's Neighbors Concerned
Saudi Arabia has repeatedly said it worries that violence in Iraq could escalate into a sustained sectarian-based conflict.
If so, the Sunni-Shi'ite confrontations in Iraq could spill across the border into the Saudi kingdom -- an officially Sunni state with a Shi'ite minority in its oil-rich eastern region.
That is one reason Saudi officials stressed during recent talks with Iranian President Mahmud Ahmadinejad that both Saudi Arabia and Iran see sectarian strife as the biggest threat to Muslims.
The Saudis and Iran have both vowed to fight that threat. Saudi Arabia and many other Arab states support Iraq's Sunnis -- at least morally and, according to some reports, financially. So, the Saudis will watch what commitments Tehran is ready to make in Baghdad to help rein in Iraqi Shi'ite militias.
Iran is officially a Shi'ite state. According to Washington and Britain, Tehran also provides military expertise, weapons, and financial support to Iraq's Shi'ite militia.
Officials in Turkey are concerned that escalating civil strife could weaken Iraq's central government and, if uncontained, even lead to the breakup of the country.
In the short-term, that raises concerns in Ankara of the Kurdish-administered area of northern Iraq being transformed into an independent state on Turkey's eastern border.
Ankara fears that a neighboring Kurdish state would increase demands by Turkey's own Kurdish minority for autonomy. Kurdish separatists have been fighting a low-level guerilla war in southeastern Turkey for decades.
Russia Blames Washington
Russia, too, is watching Iraq with concern. Moscow blames Washington for trying to impose what the Kremlin calls a "unipolar order" on the world. Speaking last month in Munich, Russian President Vladimir Putin said violence in Iraq is a symptom of U.S. unilateralism.
"Everything that is going on this world today is a consequence of attempts to implement a unipolar concept of the world," Putin said. "And what is the result of that? Unilateral, often illegitimate actions have not resolved one single problem. On the contrary, they have caused new human tragedies and more tension. You can judge for yourself: the number of wars, local or regional conflicts has not decreased. And more people -- significantly more people -- are dying in such conflicts now."
Analysts say Moscow may see the Baghdad conference as a chance to position itself as a mediator between Washington and Tehran -- the two powers now at odds with each other over deteriorating security in Iraq.
In the past, Russia has sought without success to play a mediating role in the crisis over Iran's controversial nuclear program.
A prominent role as a mediator at the Baghdad conference would help Moscow roll back what Putin describes as Washington's "unipolar concept of the world."
As one of the five permanent members of the UN Security Council, Russia also will have a representative at the Baghdad talks. So, too, will Britain and France.
British Withdrawal Plans
Britain is now preparing to withdraw 1,600 of some 7,000 troops from Iraq in the coming months.
With British troops deployed in Iraq's Shi'ite-majority south, London puts a premium on assurances that improved security that will allow that partial withdrawal to go forward. That makes any regional consensus that includes Iran a high priority to London.
France, which opposed the U.S.-led invasion of Iraq without a UN mandate, says the Baghdad security conference offers both challenges and opportunities.
French President Jacques Chirac said in January that the 2003 invasion and its repercussions have destabilized the Middle East. He said the priority now, "more than ever," is to "return sovereignty to the Iraqis."
In fact, that is a goal officially subscribed to all by all the participants in the Baghdad conference. How much each country does to make that goal a reality will be the most closely watched issue.
Nuri al-Maliki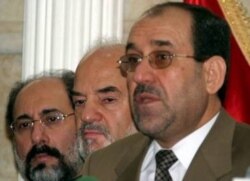 Nuri al-Maliki (epa)

NURI KAMIL AL-MALIKI (Jawad al-Maliki is a nom de guerre) was born in 1950 in the Twayrij al-Hindiyah district of Karbala.
Commonly known as Abu Isra, al-Maliki joined the Islamic Al-Da'wah Party in 1968.
He holds an M.A. in Koran and Arabic Language Studies from Salah al-Din University in Irbil.
Following a crackdown on outlawed parties by the regime of Saddam Hussien, al-Maliki fled the country in 1980, seeking asylum first in Iran and later in Syria.
While in Syria, he also published a magazine -- "Al-Mawqif" ("The Attitude") -- that became the mouthpiece of the Islamic Al-Da'wah Party.
For several years, al-Maliki served as the head of jihad and military operations for the party, subsequently becoming a member of its political bureau.
Following the liberation of Iraq, he served as deputy director of the de-Ba'athification commission established by the Coalition Provisional Authority.
In 2004, al-Maliki was elected deputy speaker of the interim National Assembly.
He played a leading role in settling the August 2004 crisis in Al-Najaf when supporters of Shi'ite cleric Muqtada al-Sadr battled coalition forces for three weeks.
In 2005, he served as chairman of the transitional National Assembly's Security and Defense Committee. He was also a member of the committe responsible for drafting Iraq's new constitution.
He has also served as a spokesman for transitional Prime Minister Ibrahim al-Ja'fari and as spokesman for the United Iraqi Alliance.
More about al-Maliki:
Premier-Designate Promises Tough Approach
Tough Challenges Face New Prime Minister


THE COMPLETE PICTURE: Click on the image to view RFE/RL's complete coverage of events in Iraq and that country's ongoing transition.