The races are shaping up as two-horse contests, in which the newest "party of power" is challenging its more established, better-funded counterpart.
Perhaps the most significant feature of the regional legislative election campaigns has been the further marginalization of post-Soviet Russia's two main liberal parties, Yabloko and the Union of Rightist Forces (SPS).
Two 'Opponents' Go Head To Head
Meanwhile, some of the fiercest, and perhaps the only real, competition has been taking place between the two main pro-Kremlin parties -- Unified Russia, headed by State Duma Speaker Boris Gryzlov, and A Just Russia, headed by Federation Council Speaker Sergei Mironov. Both men are close allies and long-time associates of President Vladimir Putin.
All of Unified Russia's and A Just Russia's candidate lists were registered in all 14 regions with no complications.
MORE: Follow election coverage in Russian on the website of RFE/RL's Russian Service.
The main "party of power," Unified Russia, appears to have benefited greatly from "administrative resources" -- in particular, decisions made by regional election commissions hindering rival parties.
Dmitry Oreshkin, who heads the Merkator research group, noted in the weekly magazine "Ogonyok" on March 5 that while only 4 percent of the party lists submitted in October's regional elections were rejected, 16 percent of the party lists submitted during this contest have been rejected.
Cooperative Courts
However, none of the two Kremlin-backed parties' lists was rejected -- all of Unified Russia's and A Just Russia's candidate lists were registered in all 14 regions with no complications. Another reliably pro-Kremlin grouping, the Liberal Democratic Party of Russia (LDPR), likewise was able to get its lists registered in all 14 regions.
The Communist Party of the Russian Federation (KPRF) was denied registration in the Republic of Daghestan and in Tyumen Oblast, but its candidate lists were reinstated in both those federation subjects after the party challenged the rejections in court.
"Kommersant-Vlast" wrote on February 12 that the fact the KPRF was ultimately allowed to run candidates in Daghestan and Tyumen (according the weekly, the Communists themselves admitted it was made possible with "help from the top") "once more demonstrates that the Kremlin still needs [KPRF leader] Gennady Zyuganov's moderate opposition party -- if only because were it disqualified from elections, many of its supporters would either vote for more radical and less manageable parties, or join the ranks of the street opposition, in whose activities the Kremlin still sees the real threat of an 'Orange Revolution'."
Meanwhile, the SPS was refused registration in Vologda, Pskov, and Tyumen oblasts. It was also banned from running in Daghestan, owing to a unique feature of that republic's election law that requires parties to field at least one candidate in each of Daghestan's 53 regions. However, the SPS managed to get a decision barring it from running candidates in Samara Oblast overturned.
Yabloko was refused registration in Oryol Oblast and St. Petersburg. The election commission in Russia's second city said that the number of invalid signatures in the petitions that Yabloko submitted in support of its bid to run in the St. Petersburg's Legislative Assembly election exceeded the threshold of 10 percent.
Soviet-Style Elections
Yabloko's appeal to the Central Election Commission (TsVK) was rejected -- a decision which, according to Yabloko leader Grigory Yavlinsky, turned the St. Petersburg contest into a "pseudo" election "no better than those we had back in the Soviet era."
As "The St. Petersburg Times" reported on February 16, Yavlinsky said his party believed that the TsVK was "following a political order from [St. Petersburg] Governor Valentina Matviyenko, with the full support of the presidential administration -- and perhaps even President Vladimir Putin personally."
Yabloko appealed to Russia's Supreme Court, but on March 6 it, too, rejected Yabloko's appeal. The Supreme Court had ruled the previous day to keep the Socialist Unified Party of Russia, headed by State Duma Deputy Vasily Shestakov, out of the St. Petersburg race.
As newsru.com reported on March 6, the St. Petersburg branch of Yabloko called on voters to protest the ban by voting for all of the parties appearing on the ballot on March 11 and promised to hold a large protest in the city sometime after the vote.
In addition to alleged bias by the election authorities, Yabloko has experienced other problems. As gazeta.ru reported on March 2, several party activists -- including a leader of Yabloko's youth wing, Ivan Bolshakov, and the press secretary of the party's Moscow chapter, Igor Yakovlev -- were beaten up in the Moscow Oblast town of Balashikha by a group of young men who demanded that they stop campaigning there, insisting that only Unified Russia was allowed to operate in Balashikha. According to the victims, the attackers did not conceal that they were Unified Russia members.
Focus On Samara
Such incidents notwithstanding, the only real competition in the race is between Unified Russia and the more recently created "party of power" -- A Just Russia. As "The Moscow Times" reported from Samara in an article published March 7, A Just Russia, which is headed in the region by Samara Mayor Viktor Tarkhov, has filed more complaints than any other party to the regional election commission. Most of them reportedly charge that Unified Russia, which is led there by Samara Oblast Governor Konstantin Titov, has received preferential coverage in the local media.
A Just Russia has also put up billboards proclaiming itself as "the party of justice against a gang of embezzlers of public funds." According to the newspaper, another "typical billboard" features a picture of the governor on one side and the mayor on the other, with a caption under Titov's picture stating: "Fifteen years in power, and [Titov's] son is a dollar millionaire."
Whether or not such populist appeals will help the new "party of power" successfully challenge its more established counterpart remains to be seen. Merkator research group head Oreshkin, for one, thinks not. He predicted in the weekly "Ogonyok" on March 5 that Unified Russia will win in all 14 regions, averaging 40-45 percent of the vote, with A Just Russia coming in second, averaging 15-20 percent.
(Jonas Bernstein is a freelance Russia analyst in Washington, D.C.)
Democracy In Russia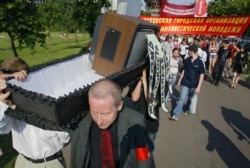 Demonstrators in Moscow carry a coffin with a television in it to protest government control over broadcasting (TASS file photo)


DO RUSSIANS LIKE THEIR GOVERNMENT? During a briefing at RFE/RL's Washington office on November 15, Richard Rose, director of the Center for the Study of Public Policy at the University of Aberdeen, discussed the results of 14 surveys he has conducted since 1992 on Russian public opinion about democracy and the country's development. He discussed the implications of these opinions for relations with the West and for Russia's 2008 presidential election.
LISTEN
Listen to the complete discussion (about 42 minutes):

Real Audio
Windows Media
RELATED ARTICLES
U.S. Election Expected To Chill Relations With Moscow
Are Mayors Next 'Power Vertical' Victim?
Monarchist Nostalgia Remains Powerful
Russian Election Commission Rejects Third-Term Appeal
Romanov Burial May Be Part Of Kremlin Image Campaign
ARCHIVE
All of RFE/RL's English-language coverage of
Russia
.


UPDATED CONSTANTLY: Visit RFE/RL's Russian-language website, featuring news, analysis, features, streaming audio, and more, in Russian, from RFE/RL's Russian Service.