Iraqi officials say the victims were returning from a pilgrimage to the city of Karbala.
East of the capital, 10 commuters were reported killed and eight wounded when a suicide bomber detonated explosives near Baghdad's Mustansiriyah University.
Millions of Shi'a traveled to Karbala for celebrations culminating on March 9-10 to commemorate Imam Husayn, the grandson of the Prophet Muhammad.
Attacks on Shi'ite pilgrims -- many of whom traveled by foot for the Karbala rites -- killed nearly 150 people in the days leading up to the ceremonies.
In another attack today, five construction workers were killed when their bus hit a roadside bomb 100 kilometers northeast of Baghdad.
Blast At Islamic Party Offices Kills Three
An overnight blast in the headquarters of the Iraqi Islamic Party in the northern city of Mosul killed four people.
The Islamic Party is the largest party of the Accordance Front, the biggest Sunni grouping in parliament.
An unidentified body, believed to be that of a suicide bomber, was found at the scene.
Bomb-Making Suspects Reportedly Arrested
The U.S. military says U.S. and Iraqi forces captured three suspected members of a bomb-making cell north of Baghdad.
The military says the men were detained during an air assault on March 10 in Tarmiyah.
The U.S. military also announced the capture of a suspected financier of insurgents in the northern province of Kirkuk on March 7.
(Reuters, AP)
On The Verge Of Civil War
On The Verge Of Civil War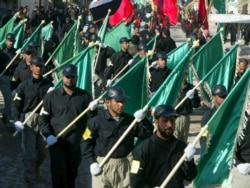 The Imam Al-Mahdi Army on parade (epa)
HAS THE CONFLICT IN IRAQ BECOME A CIVIL WAR? Many observers have concluded that the tit-for-tat sectarian violence that emerged after the February 2006 bombing of a mosque in Samarra has become a full-blown civil war.... (more)


RELATED ARTICLES
U.S. Media Starts Using 'Civil War' Label
Iraqi Prime Minister Under Fire From All Sides
U.S. Expert Discusses Prospects For Stabilization
President Says Iraq Needs Iran's Help
Saudi Arabia To Seal Off Border With Security Fence

THE COMPLETE PICTURE:
Click on the image to view RFE/RL's complete coverage of events in Iraq and that country's ongoing transition.