International Atomic Energy Agency Director-General Muhammad el-Baradei made the comment in Beijing today, on his way to Pyongyang. But el-Baradei told reporters he hoped an agreement could be reached soon on allowing UN inspectors to return to North Korea.
"I hope that we agree with the DPRK [North Korea] to get our inspectors back in time to implement the agreement of the six-party talks," he said. "I hope that we will be able to agree on modalities to normalize the relationship with the IAEA and hopefully for the DPRK to come back as a full member of the agency."
El-Baradei's visit to North Korea comes four years after the country kicked out the IAEA's nuclear inspectors. Under a six-party agreement signed on February 13, North Korea has agreed to shut down its main nuclear facility within 60 days and to work toward dismantling its nuclear programs.
(compiled from agency reports)
The Proliferation Threat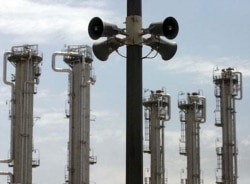 The Arak heavy-water plant in central Iran (Fars)


BENDING THE RULES. Henry Sokolski, executive director of the Nonproliferation Policy Education Center, told an RFE/RL-Radio Free Asia briefing on January 9 that the West is hamstrung in dealing with Iran and North Korea because of the way it has interpreted the international nonproliferation regime to benefit friendly countries like India and Japan.
LISTEN
Listen to the entire briefing (about 90 minutes):

Real Audio
Windows Media
RELATED ARTICLES
Iran, North Korea Present Proliferation Challenges
Tehran Watches As North Korea Tests Global Resolve
Rogue Nuclear Programs Threaten New Arms Race
Why Shouldn't Pyongyang Join Nuclear Club?