Sarybaev told reporters that Kyrgyzstan's situation has not improved since Kurmanbek Bakiev became president in 2005.
He also criticized the adoption of constitutional amendments, signed into law in January, that return much of the authority that was taken away from the presidency in November 2006.
"First of all, the [Kyrgyz authorities] themselves publicly supported the constitution adopted in November, praising it on television and in all the newspapers. I think, it would be right if they would attempt to improve people's (social) life, instead of changing the constitution," Sarybaev said.
Meanwhile, a recently established opposition bloc has said it will organize non-stop rallies in Kyrgyzstan's regions from April 9.
"The United Front For A Worthy Future For Kyrgyzstan" says in a statement that the protests will be expanded to the capital, Bishkek, from April 11.
The group, headed by former Prime Minister Feliks Kulov, says it stands for early presidential election and "real" constitutional reforms.
(with material from AKIpress, ITAR-TASS)
Understanding Kyrgyzstan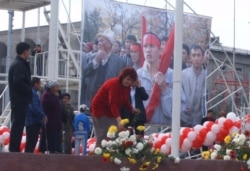 Workers preparing for celebrations of the constitutional compromise in Bishkek on November 9 (RFE/RL)


A STABLE FOUNDATION? On November 9, RFE/RL's Washington office hosted a briefing featuring RFE/RL Kyrgyz Service Director Tyntchtykbek Tchoroev and RFE/RL analyst Daniel Kimmage.
LISTEN
Listen to the complete discussion (about 80 minutes):

Real Audio
Windows Media
RELATED ARTICLES
Parliament Adopts Constitution Curtailing Presidential Powers
Crisis Deepens After President Proposes Constitutional Changes
Bishkek Prepares For Large Opposition Rally