The state-run Russian firm, Atomstroieksport, which is building Iran's first nuclear power plant at Bushehr announced on March 12 that the plant's launch, which had been scheduled for September, will be delayed.
Tehran, however, denies the charge, saying it fulfilled its obligations under the $1 billion contract.
International Pressure
Iranian officials allege that Moscow is politicizing the issue and yielding to international pressure to take a tougher stance against Tehran's nuclear program, which the West fears is a cover to build nuclear weapons.
Russian military expert Aleksandr Golts says the Iranian officials may have a point.
The approach based on attempts to persuade Iran, to offer it new variants, is failing," Golts says. "As a result, Russia finds itself in the position of defending a country that is ready to violate the Nuclear Nonproliferation Treaty. And this, of course, doesn't serve Russia's international standing."
Russia has defied the United States and its allies by helping build the Bushehr plant, selling arms to Iran, and easing United Nations sanctions against Tehran for its refusal to halt uranium-enrichment activities.
Many see the shelving of the Bushehr project as a sign that Moscow is growing increasingly irritated with Tehran's intransigence and stubborn refusal to cooperate with the UN and the International Atomic Energy Agency (IAEA).
Failed Talks
Atomstroieksport's announcement follows failed talks with Iran's Atomic Energy Organization last week in Moscow.
Commenting on Iran's nuclear crisis, Russian Foreign Ministry spokesman Mikhail Kamynin said on March 12 that Russia is committed to "ensuring nuclear nonproliferation."
"The UN Security Council is meeting to discuss possible sanctions (UN) Also on March 12, Russian news agencies quoted an unidentified source warning that Russia could withdraw its support for Tehran. The source said that Iran has abused Russia's goodwill and tarnished its international image.
Ivan Safranchuk, who heads the Moscow office of the U.S.-based Center for Defense Information, says the timing of the suspension of construction work at Bushehr is not coincidental.
Russia, he says, is aware it will raise tempers in the West if it proceeds with sending uranium fuel to Iran.
"For Russia, it is fundamentally important that Iran fully cooperates with the IAEA. Russia cannot cooperate with Iran if [Iran] is not a candid IAEA member," Safranchuk says. "So as long as there's a risk of Iran pulling out of the IAEA -- and Iran has on several occasions declared it will do so -- Russia cannot deliver [nuclear] fuel. This doesn't mean, however, that Russia is ready to automatically support all proposals concerning sanctions against Iran."
Russia's announcement that it is suspending work at Bushehr comes as all 15 members of the UN Security Council are expected to begin consultations today over the imposition of additional sanctions on Iran.
The Proliferation Threat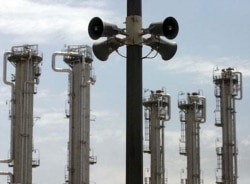 The Arak heavy-water plant in central Iran (Fars)


BENDING THE RULES. Henry Sokolski, executive director of the Nonproliferation Policy Education Center, told an RFE/RL-Radio Free Asia briefing on January 9 that the West is hamstrung in dealing with Iran and North Korea because of the way it has interpreted the international nonproliferation regime to benefit friendly countries like India and Japan.
LISTEN
Listen to the entire briefing (about 90 minutes):

Real Audio
Windows Media
RELATED ARTICLES
Iran, North Korea Present Proliferation Challenges
Tehran Watches As North Korea Tests Global Resolve
Rogue Nuclear Programs Threaten New Arms Race
Why Shouldn't Pyongyang Join Nuclear Club?