Today's comment by U.S. Assistant Secretary of State for South and Central Asia Richard Boucher in Kabul comes a week after NATO-led troops launched their largest offensive yet in southern Afghanistan.
"It is important to remember that the Taliban are under pressure from all sides, including from Pakistan," Boucher said. "There have been steps from Pakistan to disrupt the leadership, to disrupt the networks, to go after some of the training facilities. The goal for all of us is to do this and do it more effectively from all sides -- from NATO, from Afghanistan, the Afghan Army, from Pakistan -- and we are always working with each other, [with] the Afghan people and the people [on the] Pakistani side to do that more effectively."
Meanwhile in southern Afghanistan, at least three civilians were killed and six wounded by a suicide bomber who crossed the border from Pakistan to Kandahar Province and blew himself up in the middle of a crowd.
(AP, Reuters, AFP)
The Afghan Insurgency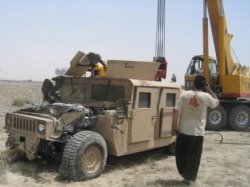 A U.S. military vehicle damaged by insurgents near Kandahar (epa)
HOMEGROWN OR IMPORTED? As attacks against Afghan and international forces continue relentlessly, RFE/RL hosted a briefing to discuss the nature of the Afghan insurgency. The discussion featured Marvin Weinbaum, professor emeritus of political science at the University of Illinois at Urbana-Champaign, and RFE/RL Afghanistan analyst Amin Tarzi.
LISTEN
Listen to the entire briefing (about 83 minutes):
Real Audio
Windows Media
ARCHIVE
RFE/RL's
coverage of Afghanistan
.
SUBSCRIBE
For weekly news and analysis on Afghanistan by e-mail,
subscribe to "RFE/RL Afghanistan Report."