And that is exactly what Hungary is being accused of doing.

The controversy centers on the Hungarian government's mid-March announcement that it had agreed to a Russian proposal to extend the Blue Stream pipeline. Under the arrangement, Russian natural gas would reach Hungary via Turkey and the Balkans.

Unilateral Action
But some media are saying Hungary is positioning itself to gain preferential access to Russian gas and become a hub for Gazprom's operations in Central Europe. Furthermore, the argument goes, in agreeing to the deal the Hungarians became party to Russia's efforts to tighten their grip on energy deliveries to Europe.

Another concern, the media say, is that Hungary's decision sabotages the European Union's pet project -- the Nabucco pipeline, which was intended to circumvent Russian routes in bringing Caspian and Middle East gas to Europe.
The Hungarian government has defended its actions by claiming that Nabucco is still a "distant dream."
The Hungarian government has defended its actions by claiming that Nabucco is still a "distant dream" and that the country had to face reality. Hungary's gas consumption, it claims, is increasing and the country cannot wait until 2012 for Nabucco to be completed. Furthermore, it has not yet been determine if there is enough gas in the Caspian region to fill Nabucco or to ensure that long-term delivery contracts can be met.

Janos Koka, Hungary's 34-year old Hungarian economy and development minister, gave some insight into his view of pipeline politics and Hungary's national interests during a July 2006 news conference.

"If Hungary could win the contract to store 10 billion cubic meters of Gazprom's gas, if the Blue Stream pipeline's distribution point would be here in Hungary, and if we could bring Nabucco here as well, and if we could also get hold of liquefied natural gas, then there would be practically no energy risk," he said, "and the state would also earn money from the transit fees."

Security Supreme
Koka went on to say that as a state minister, his job is to ensure that energy supplies are secure. And his views on Russian policy were not in the least bit rosy.

"More than 80 percent of Hungary's natural gas comes from Russia," he said. "We are overly dependent on Russian gas, and Russia clearly wants to strengthen its monopoly."


In 2006, Hungary imported 8.7 billion cubic meters of gas, most of which came through the main Ukrainian pipeline. The country consumes some 14 billion cubic meters of gas annually.
Despite the criticism of Hungary, the Nabucco consortium has not exhibited much concern and in March began talks with Gaz de France for its possible inclusion in the international project.
The hope is that adding the French to the consortium, which currently is made up of five companies -- including one from Hungary -- will boost the project's credibility.
Self-Sufficiency

Meanwhile, the Hungarians have a possible ace up their sleeve.

Falcon Oil and Gas, a Canadian-owned company, announced in January that Hungary could become a net exporter of gas within five years if a large gas field located near the southern Hungarian town of Mako meets expectations.
The Mako field is estimated to hold some 617 billion cubic meters of gas. Test production is to begin in April. If it proves successful, the Mako field could not only meet Hungary's needs, but supply gas to Romania, Serbia, Ukraine, and Western Europe.
Exporting Kazakhstan's Energy
Exporting Kazakhstan's Energy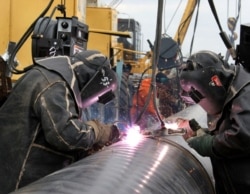 Work on a Kazakh pipeline (TASS file photo)


PRESSURE FROM THE KREMLIN? Columbia University political science professor Kimberly Marten told an RFE/RL briefing that Russia seems to be using its control of gas pipelines in the former Soviet Union to pursue its goals in Kazakhstan.
LISTEN
Listen to the entire briefing (about 60 minutes):

Real Audio
Windows Media
RELATED ARTICLES
The Emerging Post-Soviet Petrostates
Nazarbaev, Merkel Discuss Energy, Bilateral Ties
Nazarbaev Talking Energy, Economic Cooperation On China Visit
ARCHIVE
RFE/RL's coverage of
Kazakhstan
.