Amnesty Urges U.S. To Abandon Military Trials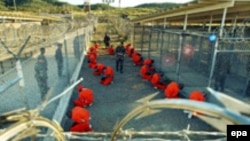 Detainees at the Guantanamo Bay detention center (file photo) (epa) March 22, 2007 -- Amnesty International has urged the United States to abandon plans to try Guantanamo prisoners before military tribunals, saying they don't meet international standards of fairness.
The report comes as the United States is set to restart the tribunals with the trial of Australian prisoner David Hicks.
U.S. officials have announced plans to try 60 to 80 of the nearly 400 foreign captives held at Guantanamo Bay, Cuba, under a new system of war crimes tribunals authorized by the U.S. Congress last year.
(Reuters)