Zalmay Khalilzad spoke at a farewell news conference in Baghdad today.
He is believed to be the first U.S. official to publicly acknowledge holding such talks, which he told "The New York Times" had begun in early 2006.
Khalilzad said the aim of the talks was to isolate Al-Qaeda, which he accused of trying to intimidate the Sunni insurgency into not cooperating with the Iraqi government and coalition forces.
Khalilzad also told reporters that insurgent and militia attacks had decreased by 25 percent since the start of a new U.S.-Iraqi security plan last month. It was not clear whether he was speaking about Baghdad or the country as a whole.
On March 22, a senior Iraqi official said the Iraqi government had been holding talks with some insurgent groups.
The White House has nominated Khalilzad to become the next U.S. ambassador to the United Nations.
(AFP, AP, nytimes.com)
On The Verge Of Civil War
On The Verge Of Civil War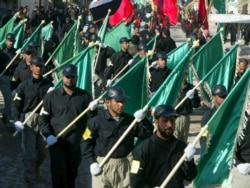 The Imam Al-Mahdi Army on parade (epa)
HAS THE CONFLICT IN IRAQ BECOME A CIVIL WAR? Many observers have concluded that the tit-for-tat sectarian violence that emerged after the February 2006 bombing of a mosque in Samarra has become a full-blown civil war.... (more)


RELATED ARTICLES
U.S. Media Starts Using 'Civil War' Label
Iraqi Prime Minister Under Fire From All Sides
U.S. Expert Discusses Prospects For Stabilization
President Says Iraq Needs Iran's Help
Saudi Arabia To Seal Off Border With Security Fence

THE COMPLETE PICTURE:
Click on the image to view RFE/RL's complete coverage of events in Iraq and that country's ongoing transition.