NATO's Secretary-General Jaap de Hoop Scheffer called the signing an "important step" and said he looked forward to the treaty's early ratification.
In a statement released through his spokesman European Commission President Jose Manuel Barroso called the treaty "a decisive step toward the development of stable relations between both countries."
Latvian Prime Minister Aigars Kalvitis and his Russian counterpart, Mikhail Fradkov, signed the treaty earlier today in Moscow.
Under the treaty, Latvia drops any territorial claims on a district in the neighboring Russian region of Pskov. The district was part of the Baltic state before World War II.
Russian and Latvian officials first initialed the border treaty in 1997 and Moscow and Riga were prepared to sign it in 2005.
The signing, however, was delayed at the last moment when Latvia included reference to a 1920 treaty under which Pytalovo -- now a district in Russia's Pskov region -- was considered to be part of Latvia.
Russia called on Latvia to withdraw the reference.

In February of this year, Latvia's parliament passed a law giving up any territorial claims against Russia and paving the way for the treaty to be signed.
Latvia is the second of the three Baltic states after Lithuania to sign a border pact with Russia.
European Commission spokeswoman Emma Udwin said she hoped Latvia's Baltic neighbor Estonia would follow suit and sign a border treaty with Russia.
Officials in Brussels say finalized border treaties with Latvia and Estonia are among the preconditions Russia needs to meet to achieve its long-term goal of visa-free travel with the EU.

(with material from Reuters and dpa)

Russia And The EU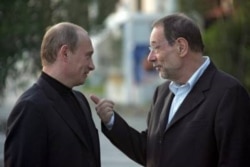 Russian President Vladimir Putin (left) with EU foreign policy representative Javier Solana in Sochi in May 2006 (epa)


A POLICY OF APPEASEMENT? Ralf Fuecks, head of the Heinrich Boell Foundation and a Green Party activist, spoke at RFE/RL's Prague broadcast center about the EU's complex relations with a resurgent Russia. RFE/RL President Jeff Gedmin moderated the discussion.
LISTEN
Listen to the entire briefing (about 60 minutes):

Real Audio
Windows Media
RELATED ARTICLES
Moscow Hosts PACE Standing Committee
Brussels Mulls Over Its Energy Sources
Council Of Europe 'Convinced' Of Chechnya Torture
ARCHIVE
RFE/RL's coverage of
Russia
.