Sergei Mironov, the speaker of the upper house of parliament, said the two-term limit should be scrapped and the presidential term extended from four to at least five years.
"I propose to consider, if possible, changing this part of Article 81 [of the Russian Constitution] and extend the presidential term to five or maybe even seven years," Mironov said. "And I propose to consider whether there is now a need -- in response to numerous petitions, I would even say millions of petitions from our citizens -- to establish that one and the same person cannot serve as president of the Russian Federation for more than three terms in a row."

Mironov made the comments after he was reelected today to a third-term as speaker of the Federation Council.

There have been numerous calls by politicians and organizations for constitutional changes to allow Putin to serve a third term.

Putin himself has repeatedly said he intends to step down when his second term expires in 2008.

Boris Gryzlov, the speaker of the lower house of parliament, today said he was against the proposed changes to the constitution.

Gryzlov is the leader of the pro-Kremlin Unified Russia party, which holds a majority in the State Duma.
"I do not support the statements that are being made regarding the constitution," Gryzlov said. "I have said many times that the parliamentary majority based on the Unified Russia party -- our faction has two-thirds of the seats in parliament now, which is a constitutional majority -- will stand guard to protect the constitution."
(RIA Novosti, Interfax, ITAR-TASS)

Rising Russian Nationalism
Rising Russian Nationalism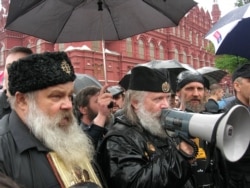 Orthodox believers and nationalists heckling a gay-rights rally in Moscow in May 2006 (RFE/RL)
A THREAT TO CIVIL, RELIGIOUS LIBERTIES: Several leading experts told a briefing hosted by RFE/RL and the U.S. Commission on International Religious Freedom that several mounting trends in Russia are posing a growing threat to human rights, especially for members of the country's ethnic and religious minorities.
LISTEN
Listen to the entire briefing (about 90 minutes):

Real Audio
Windows Media
RELATED ARTICLES
Why Putin Is Going To The Vatican
Bishop Assails Russian Orthodox Church

A thematic webpage devoted to issues of religious tolerance in RFE/RL's broadcast region and around the globe.