Reports say some 2,500 members of the Halk Maslahaty, or People's Council, voted unanimously in favor of appointing President Gurbanguly Berdymukhammedov as their chairman.

Berdymukhammedov was the only candidate.

An honorary elder of Turkmenistan, Muratberdy Sopiev, said today in nominating the president that "Berdymukhammedov was able in the short period of his leadership to show his ability to realize into practice his promises given to the people. He is able to listen to people's proposals, study them and make decisions on [such proposals]."

Berdymukhammedov succeeded President Saparmurat Niyazov after the death of the autocratic leader in December.

Lawmakers at today's final session in the southeastern city of Mary also debated and approved a draft law that would reform Turkmenistan's agricultural sector.
The legislation aims to create farmers' unions and a short-term agriculture credit system to foster the development of private farming.

The Halk Maslahaty is scheduled to meet next in Turkmenabat in Lebap Province in December 2008.

(with material from AP)

Saparmurat Niyazov, 1940-2006
Saparmurat Niyazov, 1940-2006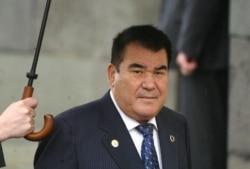 Turkment President Saparmurat Niyazov (bymedia.net)

ERA OF UNCERTAINTY. The death of Turkmen President Saparmurat Niyazov ends an era and begins a period of great uncertainty in Turkmenistan....(more)
RELATED ARTICLES
Could Niyazov's Death Lead To Political Struggle, Instability?
President's Death Brings Muted World Reaction
Energy Analyst Discusses Impact Of Niyazov's Death
Niyazov's Death Prompts Integration Hopes, Gas Worries In Russia
ARCHIVE
RFE/RL's coverage of
Turkmenistan
.