Niyazova's brother, Rustam, confirmed to RFE/RL's Uzbek Service that Niyazova will be put on trial.
Niyazova was detained crossing into Uzbekistan from Kyrgyzstan in December. Her computer and other material were confiscated.
"The investigation is over," Niyazova's brother said. "There will be a trial for violating two articles [of the criminal code] -- contraband and illegally crossing the border. There is also a third charge that could add three to five years to any sentence -- accepting money from a foreign country and working against the government. There is such an article [in the criminal code]. Now the court is reviewing the evidence in the case, then there will be a trial."
Niyazova was interviewing family members of victims of the May 2005 Andijon violence that left at least 189 people dead -- rights groups and witness testimony sugggested that hundreds died and that most were unarmed demonstrators.
Some of those Niyazova interviewed have been tied by Uzbek authorities to banned religious groups.
International rights organizations have reported on Niyazova's case and called on Uzbek authorities to release her.
Many of those same groups accuse Uzbekistan of routinely infringing rights to keep a tight lid on political expression.
'Attacks On The Press -- 2006'
'Attacks On The Press -- 2006'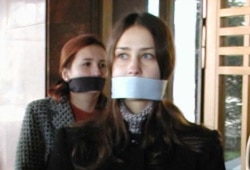 Ukrainian journalists demonstrating against censorship in December 2006 (RFE/RL)


'DOMINO EFFECT.' Two experts with the Committee to Protect Journalists told an RFE/RL-Radio Free Asia briefing on February 6 that their organization is concerned Russia's increasingly restrictive media environment is being copied by other countries in the CIS.
LISTEN
Listen to the entire briefing (about 80 minutes):

Real Audio
Windows Media
RELATED ARTICLES
New Program Finds Way Around Internet Censorship
CPJ Discusses Dangers, Obstacles Journalists Face
East: RSF Calls Iraq, Iran 'Graveyard Of Freedom'
Media Situation Worsening In Central Asia, Russia, Azerbaijan
SUBSCRIBE
For regular news and analysis on media issues throughout RFE/RL's broadcast area by e-mail,
subscribe to "RFE/RL Media Matters."