The warning comes shortly after the announcement of a major Turkish military effort targeting Kurdish guerrillas near the Iraqi border.
Barzani, who is president of the Kurdistan Regional Government, had said that Iraqi Kurds would retaliate to any Turkish interference in northern Iraq by stirring up trouble in Turkey's predominantly Kurdish southeast.
Erdogan said Barzani should not say things that are "too heavy for him." Erdogan did not specify what options Turkey might be willing to consider.
A large-scale Turkish military operation against separatist Kurdish guerrillas was reported under way in southeast Turkey on April 8 following fighting that left up to 10 members of the Turkish security forces dead over the past several days.
The fighting was reported in provinces including Tunceli, Bingol, Bitlis, and Sirnak near the Iraqi border. Up to seven fighters of the Kurdistan Workers' Party have been reported killed in those clashes.
(AP)
IRAQ MAP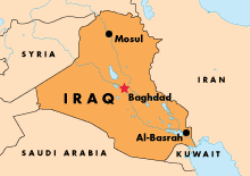 Click on the map to see Iraq's ethnic makeup