U.S. Official Promotes Media On Tajikistan Trip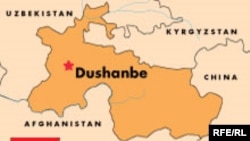 (RFE/RL) DUSHANBE, April 13, 2007 -- U.S. Deputy Assistant Secretary for South and Central Asian Affairs Evan Feigenbaum is in Tajikistan to meet with government officials, RFE/RL's Tajik Service reported.
Feigenbaum today called on the Tajik government to create the proper conditions for a functioning free independent media and also to increase efforts to fight corruption.
Feigenbaum spoke about terrorism and HIV/AIDS, threats that he said know no borders and require international cooperation to combat.
"And so as you here in Tajikistan and your neighbors try to defeat these transnational scourges, the United States seeks to be your partner because it is very much in our interest to do so," Feigenbaum said.
Feigenbaum also announced the U.S. government will provide Tajikistan with almost $50 million in humanitarian aid this year in appreciation for Tajikistan's role in helping U.S.-led coalition forces in neighboring Afghanistan.
(with material from Interfax, ITAR-TASS)