OSCE Chief Says Tajikistan Helping Secure Region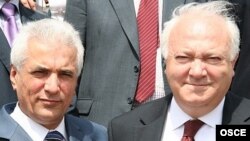 Moratinos (right) with Foreign Minister Zaripov in Dushanbe today (OSCE) April 14, 2007 (RFE/RL) -- The chairman in office of the Organization for Security and Cooperation in Europe (OSCE) was in Tajikistan's capital, Dushanbe, today for talks with Tajik officials.
Spanish Foreign Minister Miguel Angel Moratinos said Tajikistan's active participation in the OSCE has contributed to making the Central Asian region more secure, and he noted Tajikistan's efforts to strengthen border security.

During his visit, which included a meeting with Tajikistan's Foreign Minister Hamrokhon Zaripov, Moratinos also offered the OSCE's support to reshape a draft law on nongovernmental organizations to ensure that it is in line with international standards.

Moratinos said the OSCE will continue promoting media freedoms, human rights, and other democratic reforms in Tajikistan.