FSB Questions Russian Opposition Leader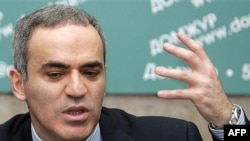 Garry Kasparov (file photo) (AFP) April 20, 2007 -- Investigators from Russia's Federal Security Service (FSB) questioned opposition leader Garry Kasparov for four hours today.
The questioning came less than a week after Kasparov was detained and released during antigovernment protests in Moscow on April 14.

Kasparov said FSB investigators asked him about recent statements he made to Ekho Moskvy radio and items in a newspaper published by his opposition group, the United Civic Front, before demonstrations in Moscow and St. Petersburg on April 14 and 15.

On April 16, Ekho Moskvy said the FSB had requested a transcript of an April 8 broadcast featuring Kasparov. According to Ekho Moskvy, the FSB said it wanted to check Kasparov's comments for "possible signs of criminal activity."

Marina Litvinovich, a Kasparov aide, told AP that the FSB was "equating dissatisfaction with the current leadership with extremism."

Kasparov's lawyer Karina Moskalenko said the former world chess champion "is not accused of anything at present." Moskalenko added that Kasparov's legal team sees "no grounds for criminal or administrative prosecution."

(AP, Interfax, ITAR-TASS)
FURTHER READING
'Their Own Law'

Former presidential adviser Andrei Illarionov tells RFE/RL that a new ideological regime has emerged in Russia.

more

Mikhail Kasyanov Warns Of Crisis

Former Prime Minister and presidential hopeful Kasyanov tells RFE/RL that Russian civil society must not be silent now.

more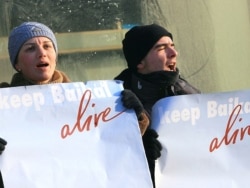 Russian environmental activists demonstrate in February 2006 against a proposed oil pipeline that they believe would have harmed Lake Baikal (TASS)


CLAMPING DOWN ON ACTIVISM. The authors of a report on Russia's controversial law on nongovernmental organizations issued by the U.S. Commission on International Religious Freedom told an RFE/RL briefing in Washington that the law places "disturbing" restrictions on NGOs.
LISTEN
Listen to the entire briefing (about 75 minutes):

Real Audio
Windows Media
RELATED ARTICLES
Foreign NGOs Rush To Beat Registration Deadline
Scrutiny Of Foreign Funds Hurts Democracy Programs
Spy Scandal Highlights Mounting Pressure On NGOs
U.S. Official Says New NGO Law Part Of Antidemocratic Trend

SUBSCRIBE
For a regular review of civil-society developments throughout RFE/RL's broadcast region, subscribe to "RFE/RL (Un)Civil Societies."