In an interview with Reuters published today, Simon Lunn said that for most NATO parliamentarians, Georgia's membership in NATO is "a question of 'when' rather than 'if.'"
Since coming to power after the 2003 Rose Revolution, Georgian President Mikheil Saakashvili has made seeking NATO and EU membership a cornerstone of Georgia's foreign policy.
NATO has offered Georgia an "intensified dialogue" on membership, and Tbilisi is working to enact a series of reforms. Georgia hopes to receive an invitation to join NATO at the alliance's 2008 summit.
Newer members of NATO, including the Baltic states, favor expanding the alliance. Some older members like Germany and France have been more cautious, due to concerns about alienating Moscow.
(Reuters)
FURTHER READING
Influence Waning?

An RFE/RL-organized roundtable discusses whether Russia's influence in the South Caucasus is on the decline.

more

'We Try To Be Patient'

Giorgi Baramidze, Georgia's minister on European and Euro-Atlantic integration, discusses Tbilisi's goals and strategies.

more
Russia And The West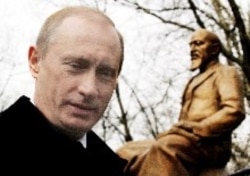 (epa)
COOPERATION, CONFLICT, CONFRONTATION: Relations between Russia and the West are notoriously volatile. "To see the kind of relationship that presidents Bush and Putin have developed and to see Russia firmly anchored in the West, that's really a dream of 300 years, not just of the post-Cold War era," then-national security adviser Condoleezza Rice said in May 2002.
But observers have increasingly called into question the extent of the shared values between Russia and the West, particularly on issues relating to the transformations going on in other former Soviet countries.
RELATED ARTICLES
Silent Diplomacy Versus Public Criticism
Analysts Say New Arms Race Unlikely
Moscow 'Unhappy' With Outcome Of CFE Conference
Moscow And Washington Spar Over WTO Membership
Russia Gears Up To Improve Its Image Abroad
Experts Urge U.S. To Rethink Relations With Russia
U.S. Official Says Russian NGO Law Part Of Antidemocratic Trend
ARCHIVE
To view an archive of RFE/RL's coverage of Russia, click here; to view an archive of RFE/RL's coverage of U.S.-Russian relations, click here.

SUBSCRIBE
For news and analysis on Russia by e-mail, subscribe to "RFE/RL Russia Report."